Crypto market is not yet recovered from Christmas hangover with red domination
The crypto market is not yet recovering from the Christmas hangover with red dominates the top 100 coins.
Overall
Crypto market hasn't shown any positive moves from its previously reported negative state. Red, sadly, still dominates the top 100 coins, with hints of green from few coins such as, Tether (USDT), Ethereum Classic (ETC), Dogecoin (DOGE), and Eternal Token (XET).
Total market cap according to Coinmarketcap is $128,055,639,366.
Top 10
The largest cryptocurrency, Bitcoin (BTC) is valued at $3,804 after experiencing -1.83% in the last 24 hours. Sadly, there are other coins on the top 10 that are performing even worse than that, such as Bitcoin Cash (BCH), Stellar (XLM), and Litecoin (LTC) that are losing by 5.94%, 5.25% and 4.86% respectively.
The only good news comes from USDT that's gaining by 0.16% at $1.02 price point.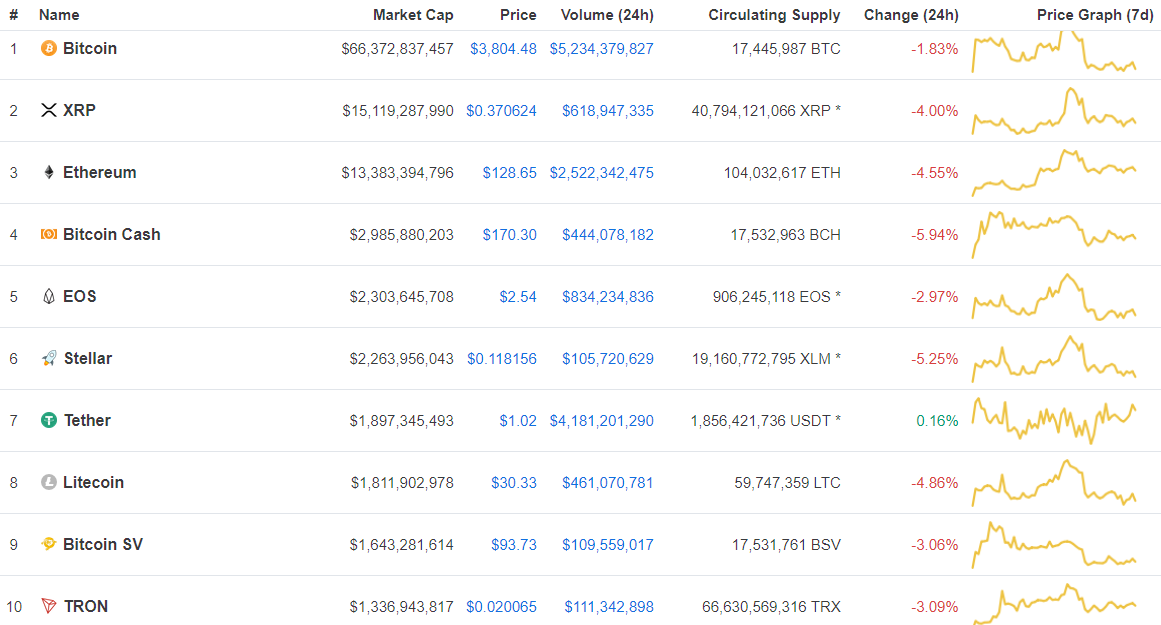 Top 100 – Biggest gainers and losers
With most coins are seen in red, the big surprise comes from XET that shows a massive increase by 273% at $2 price point. The other coins on the top 3 biggest gainers list are Ethereum Classic (ETC) with almost 9% gain and Aurora (AOA) with 4.91% gain.
The top 3 biggest losses are experienced by DEX, Polymath (POLY) and Stratis (STRAT) that are losing by 18.8%, 13.03% and almost 12% respectively.
One thing worth mentioning is almost all stable coins are in green, except Gemini Dollar (GUSD) that's losing by 0.64%. Both USD Coin (USDC) and TrueUSD (TUSD) are gaining each by 0.41% and 0.39% respectively, joining USDT on the green.
Positive outlook for 2019
Regardless the current market state, many experts in the industry still believe firmly that 2019 will be different for crypto. Fintech advisor, Henri Arslanian believes that 2019 will be an exciting year for crypto, while Changpeng Zhao of Binance thinks 2019 may be a "moon year" for crypto.
All prices are correct as of writing time
Follow Chepicap now on Twitter, YouTube, Telegram and Facebook!