60% of UK crypto firms are 'throwing in the towel'
According to a report from Sky News, the recent crypto downturn is hitting the UK hard, with about 60% of crypto firms 'throwing in the towel.'
In the UK, the FCA regulatory body is cracking down on crypto-related companies, while at the same time profits from cryptocurrency are falling. The report found that at least 340 UK-based crypto companies went defunct in 2018, a significant rise from the 139 such closures in the previous year. Furthermore, most of these closures occured in the latter half of the year between June and November, which coincides with the roughly 80% fall in crypto market value. One such high-profile closure was the Cubits exchange, which declared bankruptcy following a $33 Million scam.
Read more: How are cryptocurrencies taxed in the UK? New Tax Agency guide points it out
Also, around 50 of the blockchain-related companies which hadn't dissolved changed their name to no longer reflect their blockchain or crypto efforts, a kind of reversal of the impulse that led the Long Island Iced Tea company to rename itself Long Blockchain, gaining almost 300% as much value in terms of shares. Long Blockchain, perhaps unsurprisingly, has since been delisted.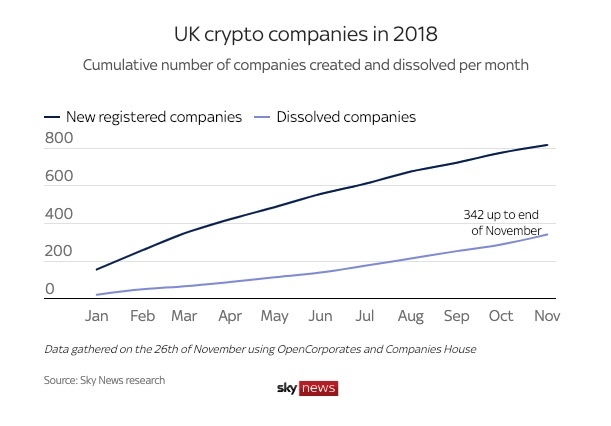 The UK in particular might be in for a rough go of it in the near future, with proposals for a crypto task force set out to investigate securities violations, and a proposed ban on the sale of crypto-derivatives.
Major UK Charity Fund Executive Believes Crypto Market Crash Is 'Just a Bump in the Road' https://t.co/F4SLKpvCy8 #Blockchain #crypto pic.twitter.com/OcFq0sD1Zw

— "Paleo by Leo" Food,Tech & Crypto news' (@paleobyleo) December 25, 2018
Still, the UK is not only full of crypto skeptics, earlier this month a UK parliamentary member suggested paying taxes in Bitcoin, and reports have confirmed that Bitcoin is not being diverted from the UK towards illegal or terrorist ends.
Read more: Iranians studying in UK looking to Bitcoin to pay tuition