2018: A Bitcoin and cryptocurrency year in review
This year has been full of its ups and downs, granted it seemed like mostly downs… but it's not been all bad; yes there have been tumultuous times and some quiet times but for the most part, there have been hopeful times… So without further adieu lets take a look back at the highlights of crypto 2018… (just in case, you know, you've been hiding under a rock all year)
With a too big to fail attitude the market entered 2018 with a boom, and that, in retrospect, was precisely the problem. The space was overinflated with very little actual worth to back it up; a huge correction was incoming, and boy did it come…
The media turned on crypto. Words such as "bubble", "burst", "bear", "Ponzi scheme", "rat poison", and "freshly harvested baby brains" … These were all thrown around, and most of them stuck; BTC quickly went from hero to zero, losing almost $13,000 in little over a month.
In that time the prominent and well-respected money lending platform outright scam Bitconnect left the market, citing bad press and regulatory orders. The firm reassured users, saying:
"This is not the end of this community, but we are closing some of the services on the website platform and we will continue offering other cryptocurrency services in the future,"
Now, the term "Ponzi scheme" gets thrown around a lot on the crypto industry, and for the most part, it is completely unfounded; however, unfortunately for investors of Bitconnect, Ponzi scheme is almost too kind of a description.
The scheme offered a daily return on investment of 1%, meaning that for a relatively small sum of $1000 you could have been sitting pretty at a gain of $50 million in 3 years… what could go wrong!?
Alas, it was bound for failure and one of the top performing cryptocurrencies of 2017, turned into the top exit scam of 2018.
However while Bitconnect's integrity was being called into question, the crypto industry gained further legitimacy as the Goldman Sachs backed Circle, forayed into crypto and acquired the popular exchange, Poloniex, for a cool $400 million.
Things were looking up, even as the market slipped further down. In February Congress held its first-ever formal hearing on cryptocurrencies, something which ended up being more of an educational session for members.
One month on the SEC was digging ever deeper, this time switching their focus from ICOs to hedge funds. Amidst this new scrutiny from the US regulatory body, the Winklevoss Twins proposed self-regulation, with the creation of the Virtual Commodity Association.
In May, Facebook started looking into blockchain capabilities by creating an exploratory group.
Circle made further waves in the industry raising $100 million during their funding round and forging a partnership with mining hardware giant Bitmain. Subsequently, the funding went toward creating one of the many stablecoins released this year: USDC
As well as their key support for CENTRE and USDC, @BITMAINtech is also leading a $110M series E strategic investment in Circle. We're over the moon to have one of the most important and forward-thinking companies join our investor's list. Welcome, @BITMAINtech pic.twitter.com/uP249k1ZLT

— Circle (@circlepay) May 15, 2018
May was also the month that Goldman Sachs alleged that Bitcoin was "not a fraud" this 'thumbs up' from such a prominent institution was marked as one of the many turning points for furthering the legitimacy of crypto.
In the same month, the SEC took another swing at ICOs by creating a mocked up token offering, in order to teach impressionable investors a lesson, how thoughtful….
Ethereum's legality was called into question with the SEC speculating on whether the cryptocurrency should be considered a security or a utility token.
June brought the news that security tycoon and all round crypto maniac, John McAfee was going to run for president in the 2020 election; vowing to champion cryptocurrencies above all else:
In spite of past refusals, I have decided to again run for POTUS in 2020. If asked again by the Libertarian party, I will run with them. If not, I will create my own party. I believe this will best serve the crypto community by providing the ultimate campaign platform for us.

— John McAfee (@officialmcafee) June 3, 2018
Joy came for Ethereum aficionados as the SEC declared that it was "not a security".
Read more: SEC official: bitcoin, ether not securities
Andresen Horowitz jumped into crypto with a $300 million cryptocurrency fund, marking one of the first financial institutions to enter the nascent industry.
In July, bitwise set the ETF trend by filing a crypto index ETF made up of 10 cryptocurrencies.
Coinbase launched its crypto custody for institutional investors and the term "institutional investor" becomes mandatory in just about every conversation about crypto.
The SEC re-examined their stance on ETFs in a bid to low the barrier for entry… (it didn't help)
Oh, speaking of ETFs, remember the rejection of the Winklevoss ETF decision from 2017? Yeah, that got rejected, again… and for some reason, this put got everyone in a really bad mood.
SEC Commissioner Hester Peirce gained the title "crypto mom" for dissenting the SEC's decision not to approve the ETF:
Apparently, bitcoin is not ripe enough, respectable enough, or regulated enough to be worthy of our markets. I dissent: https://t.co/gH5zXaKtmj

— Hester Peirce (@HesterPeirce) July 26, 2018
Congress held another hearing on cryptocurrency and this time they invited some industry leaders.
By August, even Elon Musk was feeling the FOMO:
At this point, I want ETH even if it is a scam

— Elon Musk (@elonmusk) August 28, 2018
However, by far the biggest news to come out in August - perhaps even the biggest news of 2018 - was the extremely bullish announcement that the intercontinental exchange (ICE) - parent company of the New York stock exchange - was entering the scene with the cryptocurrency ecosystem, Bakkt.
Read more: NY Stock Exchange operator to launch crypto platform with Microsoft and Starbucks

This was going to change everything, time to re-download Blockfolio from the app store and load up on altcoins because the market was about to PUMP! …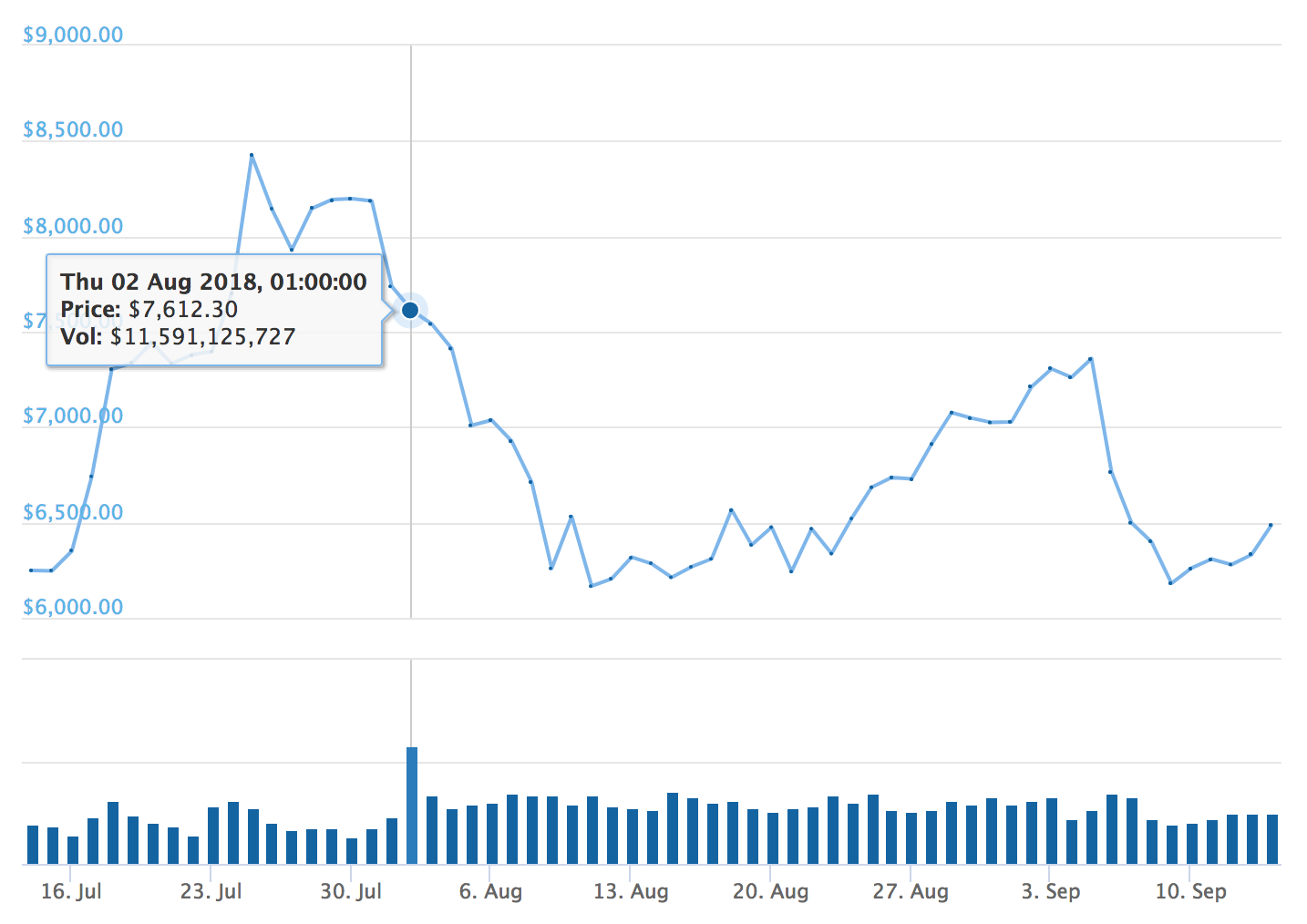 (Wait, what? … Where are you going?!)
Following the news, BTC fell $1,300 in a matter of days going from around $7,600 to $6,300.
In the latter half of the month, the market took a further blow with the SEC rejecting 9 ETFs. The regulatory body changed its mind a day later and offered to review all 9 ETF proposals... to no avail.
September kicked off with two shiny new stable coins, one from the Winklevoss twins with the launch of their newly minted Gemini Dollar (GUSD), and the other from Circle launching their Stablecoin (USDC).
Google ended its ban on cryptocurrency ads, hurrah!
But most importantly, Bitcoin makes it in the scrabble dictionary (for 11 points)… truly one for the history books!
Arriving into October in style, Solja Boy released a song about Bitcoin, called… Bitcoin.
Soulja Boy - Bitcoin (Young Drako) https://t.co/5RHWgQUlf0 via @YouTube

— Soulja Boy (Drako) (@souljaboy) October 6, 2018
Ex-president and proficient saxophonist, Bill Clinton, led a keynote speech at Ripples Swell conference.
Meanwhile, Elon Musk thought it was high time for him to take a break from taking Tesla private, end his search for "dank memes", and shill a bit of Bitcoin instead:
Wanna buy some Bitcoin? 😉😉 pic.twitter.com/9ZbBJ5fuVq

— Elon Musk (@elonmusk) October 22, 2018
(an endorsement is an endorsement I guess…)
Fidelity announced its move into the crypto space with its institutionally focused crypto custody solution exciting everyone and reigniting hope for many.
Read more: Fidelity Digital Assets launches to bring crypto to institutional investors
Dr. "doom" Nouriel Roubini came to swiftly put an end to all hope, causing quite a stir in the crypto space with his testimony on cryptocurrency to Congress; calling participants in the industry - amongst other things; "bots", "trolls", "shills", "scammers", "crypto zealots", "lunatics", "barking dogs", and, "HODLing losers" who "swim 24/7 in their own stinking shit.", ... Charming.
That's one angry man #Roubini pic.twitter.com/Ww5rLWquLy

— Stephen Var (@Podrivel) October 11, 2018
Unfortunately, things were about to get worse, less than a week later, faith in Tether (USDT) fell to an all-time low and the stablecoin lost its... stability. Tether reached a low of $0.85 as doubts mounted surrounding its solvency and that of its issuer, Bitfinex.
Read more: What's going on with Tether? Trading as low as $0,86, 'a lot of volatility ahead'
Contrary to absolutely everything it has stood for regard cryptocurrency, China states that Bitcoin is protected by law:
1/ Chinese court confirms Bitcoin protected by law. Shenzhen Court of International Arbitration ruled a case involving cryptos. Inside the verdict: CN law does not forbid owning & transferring bitcoin, which should be protected by law bc its property nature and economic value.

— cnLedger (@cnLedger) October 26, 2018
Moving into November and the state of Ohio announced that you can pay your business taxes with Bitcoin, teaming up with Bitpay to deliver upon this.
Oh and William Shatner is somehow very well versed in crypto…
His viewpoints don't take into account the fact that the code has to be audited by an auditing firm and approved by consortium or it doesn't get accepted. 🙄 He thinks it exists in a bubble. That's why we have ERC-20, ERC-721... ERC-1701😏

— William Shatner (@WilliamShatner) November 7, 2018
And of course, who could forget the Bitcoin Cash hashwars... the Bitcoin cash community was split in half as two development teams squabbled over fundamentals. The fallout of this causes the market to fall to a new yearly low, and then a few days later the market fell to a new, new yearly low.
Read more: The Bitcoin Cash civil war: Chain split or consensus?

In December, Facebook finally announced that rumors were true and it was indeed moving into the crypto space with a new stablecoin project.
The markets experienced a Christmas miracle with a small - and as of writing, ongoing - rally which breathed some much-needed life into the industry.
... And that is pretty much the long and short of it. We've experienced ups and downs, we've been shaken every which way, had every name under the sun thrown at us and yet the crypto space is in a better position than ever. We may have entered 2018 with an over-inflated sense of worth (figuratively and literally) but now we actually have some gravitas.
Traditional financial institutions are clambering over each other to introduce a crypto product, not to mention the launch of several ventures from some of the biggest names on wall street. On top of this, we have the further promise of an ETF just around the corner with a plethora of reasons why it may actually be approved. AND user adoption has doubled this year and looks set to continue, something which is undoubtedly a catalyst for growth.
Remember that piece of crypto advice you gave your grandma whilst you were flying high this time last year? Yeah… Christmas dinner is going to be mighty awkward. But at least now you can turn to grandma and say, "fu%* you nan! We're going places, it's not my fault you have weak hands!" (probably the arthritis, if anything).
Whether you're long or short (or completely out) this Christmas, remember to take a break from the charts and enjoy what really matters, eating your body weight in chocolate. Happy Holidays!
Follow Chepicap now on Twitter, YouTube, Telegram and Facebook!