Market jumps over $10 billion as 98% of top coins see green, BTC over $3,500
The total market cap took a huge reverse yesterday after reaching support at $103 billion market cap. The inevitable looked bound to happen as the market continued to slump to new lows. However, a change in fortune has seen the last 12 hours pump the market cap by over $10 billion.
Bitcoin was the most notable of the coins, seeing a jump of over 7% on the day. BTC climbed from $3,500 to over $3,500 pushing onto the next leg of resistance at $3,600.
Just about every coin in the top 100 sees green today with the most notable being EOS, which was up 21.43% on the day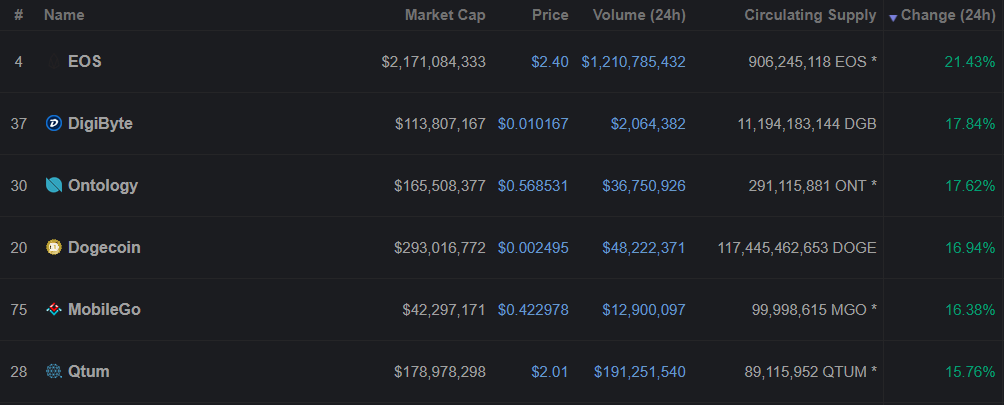 Most altcoins in the top 100 saw massive jumps in price as the total market cap climbed to a new weekly high of $115 billion. Overall market sentiment triggered a huge buy off in coins as price surged to new weekly highs across the board.
Recap: EOS jumps to the 4th place with a 21% surge, do we get a bull run for Christmas?
When the worst performing cryptocurrencies on the day are stablecoins you know the market's up to something pic.twitter.com/yJs7eWNHRX

— Joseph Young (@iamjosephyoung) December 18, 2018
The green day comes following the news that CNBC's Brian Kelly admitted to shorting BTC after being called the "Uber-Bull" of BTC. Most twitter users took the news as a sign that the bottom is in, considering nothing that the mainstream media reports ever appears to be accurate.
Also Read: CZ questions mainstream media for wrongfully telling people to buy the top
Everyone!!! CNBC is telling $BTC is going down!!!! So we Can safely expect a new Bull season any time now 🚀🚀🚀 Don't Mark my Words just use them if fit #ETH #ETC #BCH # BSV #GXX #BCZ

— CryptoTweet (@CryptoTweet6) December 18, 2018
Hopefully the market can rally a bit more before 2019. This may just be a relief rally before we see more btc blood.
Follow Chepicap now on Twitter, YouTube, Telegram and Facebook!