ZCash claims more adoption of Sapling, data shows no notable transaction increase
ZCash team claims an increase of transaction after the recent Sapling upgrade to the network, data shows otherwise.
Following the major upgrade to their network end of October, ZCash just released a post on their blog claiming an increased adoption of shielded addresses on their ecosystem.
Among the services that utilize the new Sapling upgrade are mining pools are third-party desktop wallets, which Zcash said to be "just the beginning" of their mission toward a shielded ecosystem.
Explaining the claim further, a ZCash team member, Paige Peterson said, "The increased adoption of shielded addresses is due to the underlying advancements of Zcash cryptographers. They have developed and implemented significant changes to the zero-knowledge proving mechanism in Sapling. Years of research and cryptographic design work have produced these improvements which build upon existing schemes and invent new ones."
To those unfamiliar with the topic, ZCash is a cryptocurrency that promotes privacy of all transactions on the network using shielded addresses. On shielded addresses, all activities are "hidden", which is different with the transparent ones like Bitcoin, where anyone can see all the activities.
Despite the team's claim of a rise in the adoption of the new upgrade, Blockspur's data that tracks ZCash and ZCash Classic network data don't show any significant uptick in shielded transaction activity in the past 30 days.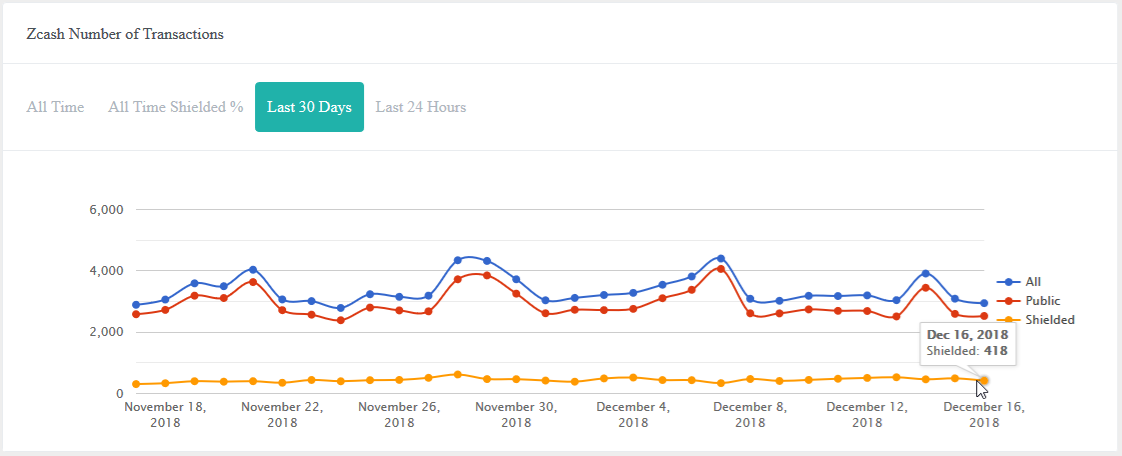 Moreover, according to CCN, the actual data shows that ZCash's overall network activity is in fact significantly lower compared to many other cryptocurrencies, such as Litecoin, Monero, and Ripple.
Follow Chepicap now on Twitter, YouTube, Telegram and Facebook!