Green on the top 100 coins, market cap drifts away from $100BN
Over the last few of hours fiat has been flowing into the cryptocurrency markets, allowing market capitalization to get some distance with the $100 billion mark.
EOS and LTC are currently the best performers out of the top 10 according to coinmarketcap, up about 10% and 8%, respectively: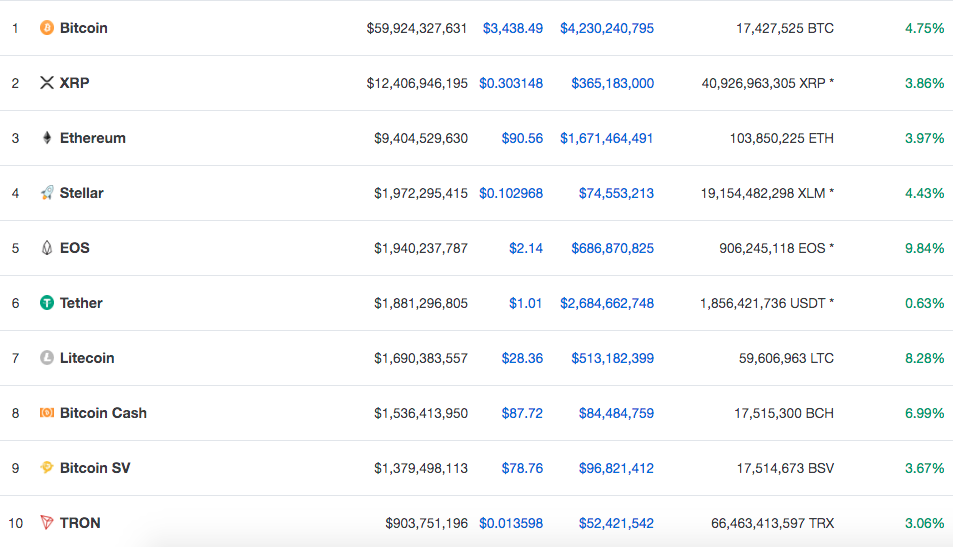 If only 17 hours ago Chepicap reported on market cap increasing in $4 billion from weekend lows that left it close to $100 billion, now cryptocurrencies have increased in valuation another $4.5 billion. The metric representing the price of all coins times their circulating supply sits now back at $109 billion, closing up on weekly highs.
At publishing time, Bitcoin is valued at $3,438, having climbed almost 5% over the last 24 hours, having left behind the 3,300 – 3,400 range that it had been straddling for the past 3 days. A short breakdown of the $3,200 mark on Saturday which failed to gain traction evidenced signs of bear exhaustion.
The best performer of the day so far has been Revain, packing up a serious 54% increase. Revain has over performed the market during the last 3 months, with a BTC price increase from 0.000017 all the way to its current valuation of 0.000053:

Its fiat valuation sits now close to $0.25, recovering ground from the $0.10 range but still far from the all-time high of more than $3 that it reached last February.
TenX is the coin with the largest loses, currently close to 10%. Only 7 coins are in red out of the top 100 at writing time, and 2 of them are stablecoins.
Read more: Bitcoin high of $19,900 was exactly one year ago today; Dec 2017 vs Dec 2018; Can Bitcoin retain $3k line? Sideways motion continues
Follow Chepicap now on Twitter, YouTube, Telegram and Facebook!