Dashlane's list of "Worst Password Offenders" put crypto owners on 3rd position
Dashlane password manager app lists down 10 worst password offenders, crypto owners are on the third position.
Password manager app, Dashlane releases their third annual "Worst Password Offenders" list that highlights renowned figures with password bloomers.
On top of the list is Kanye West, who was seen to use the code "000000" to unlock his phone during a meeting with President Trump on television.
Crypto owners come on the third place, right below the Pentagon, whose audit result by the Government Accountability Office (GAO) revealed numerous cybersecurity vulnerabilities in several of their systems.
As for crypto owners, the report said, many of them often forget their crypto account password that some were even said to hire hypnotists as their last resort to memorize their crypto passwords.
"As the value of cryptocurrencies reached record levels at the beginning of the year, scores of crypto owners had the potential to cash out — if they could remember their passwords," the report wrote.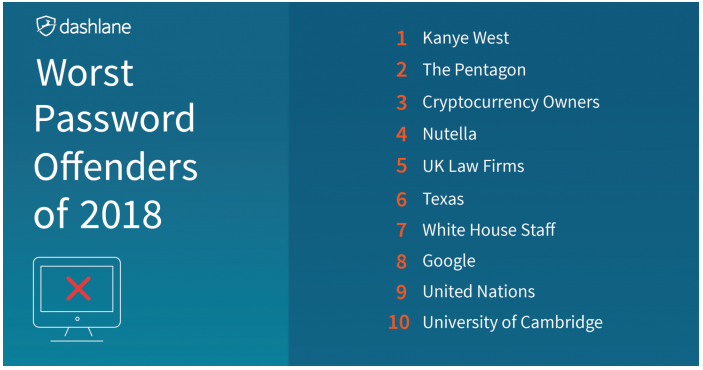 According to Dashlane's CEO, Emmanuel Schalit, passwords are the first line of defense against cyber-attacks.
"Weak passwords, reused passwords, and poor organizational password management can easily put sensitive information at risk," he said.
Furthermore, he added, "The sheer number of accounts requiring passwords means everyone is prone to make the same mistakes as the Password Offenders."
He expects that the list could serve as a wake-up call to everyone to follow the best password security practices, such as never use passwords that are shorter than 8 characters, easy to guess, and that each account needs a unique password, so that if one is compromised, the others are still secure.
Follow Chepicap now on Twitter, YouTube, Telegram and Facebook!