Cryptocurrency platform Cubits enters administration after €29 million stolen
UK based cryptocurrency payment platform Cubits has entered into administration following a hack on their system which caused the theft of €29 million.
In the press release on their website, Cubits, who is owned by Dooga Ltd., stated that the company has entered into administration. In the process, customer funds have been locked.
The statement from Dooga read "Dooga was the victim of a serious criminal act, perpetrated from outside the organisation, which has critically impacted its business and finally led to the difficult decision to place the company into Administration."
The alleged incident apparently took place in February 2018, with three accounts being affected. According to the report, "Bitcoins with a market value at that time of approximately €29 million were properly delivered and subsequently withdrawn, with the customers apparently colluding with fraudsters. Dooga has never received the equivalent in fiat from the payment processor responsible for carrying out the transaction. Immediately after becoming aware of the act, Dooga has informed the responsible authorities in the UK, Malta and China as well as in Germany and has filed several criminal complaints."
Dooga has since moved to decisively into administration "to work with those who are owed money by the Company and to collect monies that are owed."
The company appears to have taken every measurable step to rectify the issue, which relates to the Maltese payment processor not paying Cubits for the BTC transactions, "Dooga has filed two garnishee orders against the Malta registered payment processor which owes Dooga approx. €35 million, and commenced arbitration proceedings, with the largest share coming from the aforementioned transactions of the three account holders."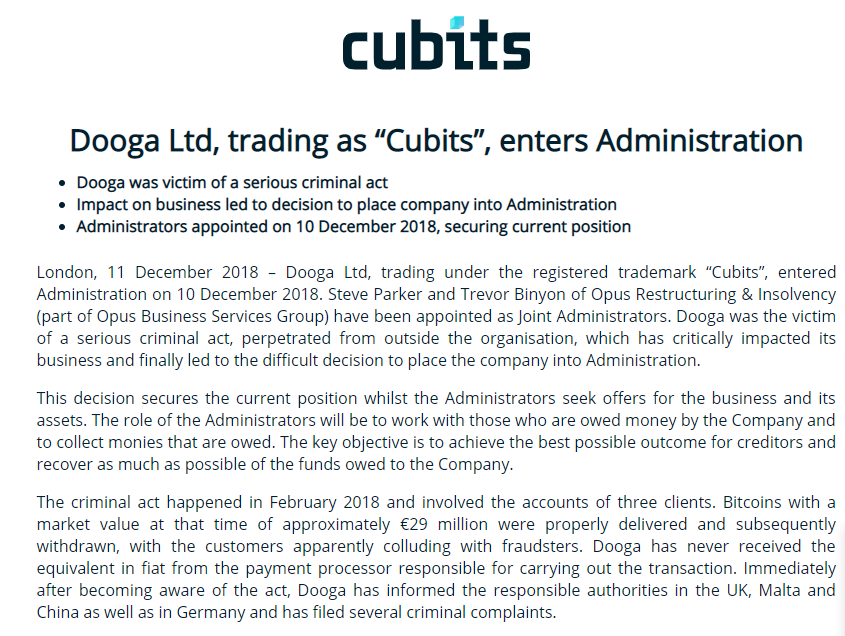 Follow Chepicap now on Twitter, YouTube, Telegram and Facebook!