Recent "whale" BTC movements may have just been Coinbase moving funds around
Chepicap recently reported on some major Bitcoin transfers made by someone with signnificant coin. In addition, notably larger transactions have occurred which saw someone splitting 856,000 Bitcoin between 107 wallets. While these moves were concerning, 8BTC has recently presented evidence that it was in fact Coinbase simply doing scheduled maintenance that led to these movements.
Between December 1st and the 6th some "Bitcoin whale" split 856,000 Bitcoins into 107 wallet addresses, each address holding 8,000 Bitcoin. While this move was initially concerning, it has begun to appear this was simply maintenance that had been previously announced by Coinbase.
It has been pointed out that just before these movements Coinbase announced on their blog that they would be performing some maintenance and that this could affect movements of Bitcoin across all Coinbase blockchains: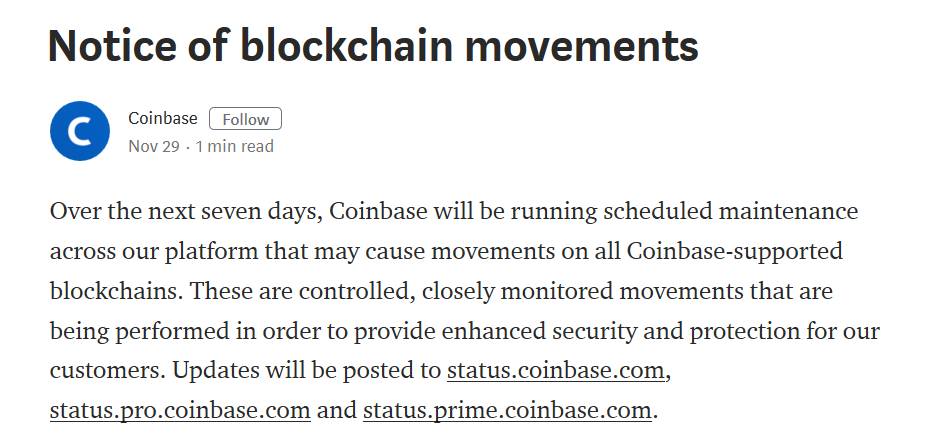 Now, nothing is confirmed but the times of the transactions and general amount fit with the announced dates Coinbase gave and the amounts they would have access to. For now it seems there is nothing scandalous about these movements.
As always, if anything new develops stick right here with Chepicap for any and all updates!
Follow Chepicap now on Twitter, YouTube, Telegram and Facebook!