Meet the man who 'became friends with Satoshi Nakamoto' in 2018
On the 29th of November of 2018, Satoshi Nakamoto's account on P2P foundation, the platform he used to divulge the Bitcoin whitepaper, came back to life after years of inactivity. There were just two interactions with the community: a status update with the word 'nour', and the addition of a 13th person to his narrow friends list. Chepicap had a video call with the lucky chosen one.
Wagner Tamanaha, a social media creative and cryptocurrency enthusiast from Sao Paulo, Brasil, decided to try his luck in adding Nakamoto on P2P Foundation in 2017 after hearing that the friendship request of fellow member of Brazilian crypto community Cristiano Casagrande had been accepted by the creator of Bitcoin back in 2014.
Read more: Satoshi's account on P2P foundation posts in Arabic, adds friend

'Casagrande told me that he had sent two friendship requests in P2P Foundation: one to Satoshi and one to me, but only Satoshi accepted. To correct this, I logged into P2P foundation and accepted Casagrande. Later I decided to add Satoshi as well'.
VIDEO: Interview with Wagner Tamanaha: 'Satoshi accepted my request'
While the email address giving access to the account was already compromised, on the same date that Casagrande was accepted a message was posted denying that Satoshi is Dorian Nakamoto, a man who was identified as the creator of Bitcoin in a Newsweek article.

Read more: Satoshi Nakamoto's last message was 8 years ago. What did Satoshi say?
Now, the pattern repeats itself: adding up a Brazilian crypto enthusiast and leaving a message behind, however a less straightforward one than the previous identity refusal. After the unexpected acceptance, which Tamanaha believes might be related to the low volume of users on the forum, he declares himself honored. On the 1st of December, he even posted a thankful message, in Japanese, into the latest status update of Nakamoto: 'Nice to meet you. Thank you very much, I will do my best for Bitcoin from Brazil'. Now, he feels like he has a duty to step up on promoting Bitcoin adoption.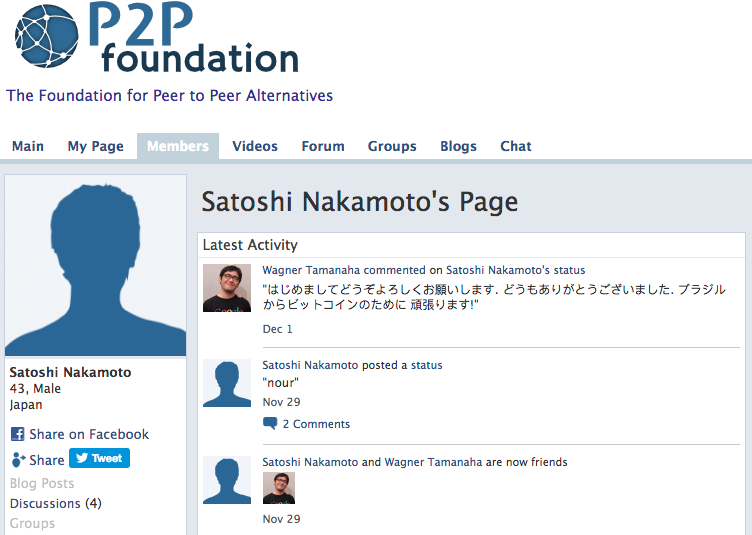 Was it the real Satoshi?
Despite now being part of Nakamoto's small circle of friends, Tamanaha is as clueless as the rest of the community about the real identity of Satoshi. Not that he considers this the most important element of the author of Bitcoin's whitepaper, either.

'For a monk, it does not matter if Buddha exists or not', says Tamanaha. 'I try not to think too much about it. To me it does not matter if he exists or not, because the people that are working on Bitcoin now are taking care of the job. The idea is growing, people are improving and trusting the code. It is working'.
According to Tamanaha, the current downtrend in price is a good scenario for this cryptic message. Most interpretations point out to the Arabic word Noor or Nour, meaning light or glow, but Tamanaha goes further defining it 'as a light in a lake during winter'. 'Nour came at the right time. It does not matter where it came from'.

Read more: The 'comebacks' of Satoshi Nakamoto since the day of his last message
He is also optimistic regarding the outcome of the latest activity from Satoshi's account: 'Now that people are digging back again in Satoshi's messages, maybe more will read the whitepaper. Everybody is too pessimistic now, just caring about fiat price'.
Only a few hours after the friendship request got accepted, many crypto enthusiasts swarmed his social media accounts requesting details about his connection to the inventor of Bitcoin. Who is he, and why him, seemed to be the questions in everyone's minds. Perhaps it was the Blockchain Cat, a cartoon invented by Tamanaha, what attracted the attention of whoever was using Satoshi´s account?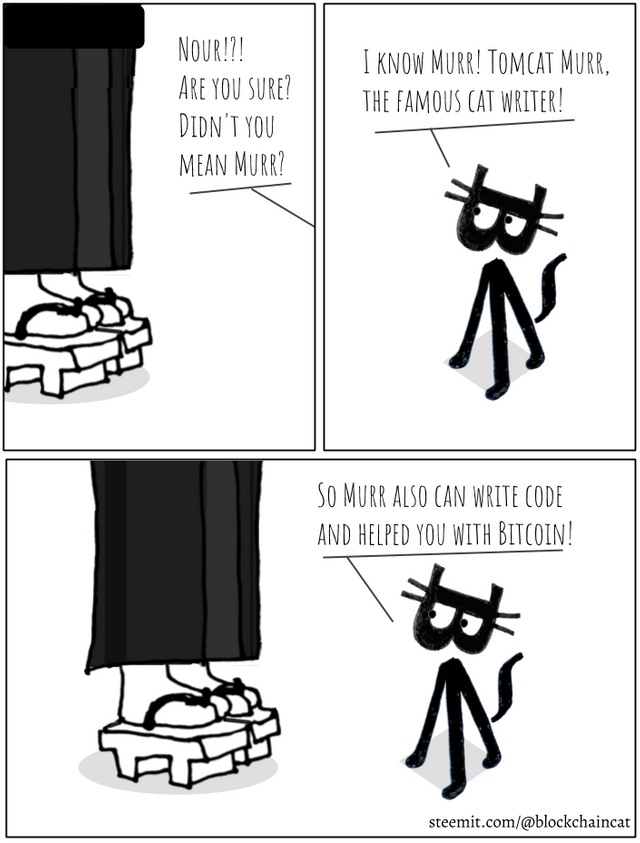 Tamanaha, 53, says he first heard about Bitcoin between 2010 and 2011, and jumped straight in. He admits that back then he didn't understand almost anything about it, but knew Bitcoin was a good idea because 'the geeks I followed were excited about it'.
Besides drawing comics, he is a social media expert with a background in advertising, who quitted his job back in June and since then has been doing presentations on blockchain and cryptocurrency applications to advertising, content and social media. At the time of publishing this story, he counts more than 1,600 followers on his Steemit account, and about double of that number on Twitter.

Read more: Who is Satoshi Nakamoto?
Many of them are fellow Brazilians helping to develop the local community, which is in good shape judging from a Forbes report stating that more crypto trading accounts are being opened in the country than those enabling trading with traditional stocks. $2.4 billion U.S. dollars were moved in crypto exchanges based in the country during 2017, per the same source.
Another accomplishment by Tamanaha inside the crypto space is founding the first Faircoop local node in Sao Paulo. Faircoop is an open and decentralized cooperative funded by anticapitalist activist Enric Duran, also known as 'The Robin Hood of the Banks'. Currently hiding from justice trying to avoid an 8 years prison sentence after borrowing €500,000 from several financial institutions without any intention to ever return the money, Duran´s Faircoop promotes an alternative, ethical global economic system which uses Faircoin as a tool for resource redistribution.

Read more: At what price will Bitcoin make Satoshi Nakamoto the world's richest?
Follow Chepicap now on Twitter, YouTube, Telegram and Facebook!
WATCH: What do non-crypto-holders think of Bitcoin?