BCHSV and EOS take a beating while prices slump back to red
Not a single coin out of the 20 largest cryptos by market capitalization is currently on green, after suffering generalized losses over the last hours.
The top 10 has been showing some movement recently, as Tether gained market cap and took over Bitcoin Cash' 5th position: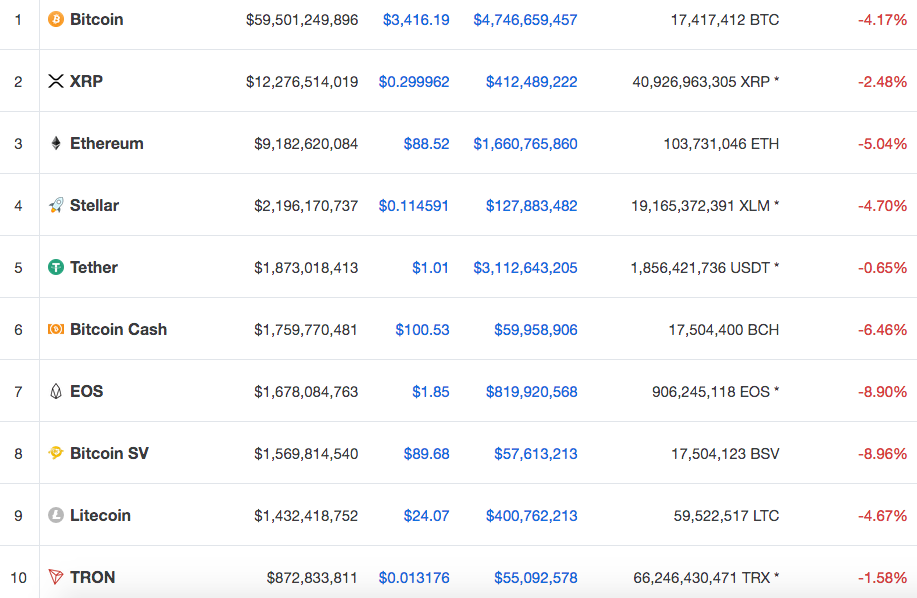 BCHSV and EOS are so far the worst performers of the whole top 20 during the last 24 hours, accumulating close to 9% losses. On the other side, Ethereum Classic is suffering less than the rest, almost breaking even at -0.2%.
Extending the scope, only about 10% of the top 100 coins are on green today. The best performers are TenX and Bitcoin Private, both accumulating gains close to 9%. Factom leads losses in the same sample, with a 25% descend.
Global market capitalization is down as well, almost $8 billion from the weekend highs of $116 billion on Sunday, to about $108 billion at the time of writing.
Regardless of loses in the margin of 4%, which are attempting to push it back below the $3,400 range, Bitcoin market dominance is back above 55%, a percentage that had not been reached since September.
Read more: More green holds the sideways trend, EOS and LTC lead recovery
Follow Chepicap now on Twitter, YouTube, Telegram and Facebook!