Christmas sweater season calls for cryptocurrency representation
With Christmas now just two weeks away, Families will be looking to spend some quality time with their loved ones and enjoy the christmas spirit. Instead of being forced to wear that heinous hand knitted sweater from your great-grandmother, why not grab yourself a cryptocurrency sweater to show everyone who doesn't already know you are a "moon boy".
While crypto sweaters were a rage last year, dwindling prices and trying to avoid those family members that you told to buy the top last year, might mean you will want to skip anything crypto related this Christmas.
However, for the die-hard crypto fan boys and girls, your favourite crypto sweater is a few clicks away with online retailers stocking some of the top projects apparel.
Online cryptocurrency shop HodlMoon is currently selling online sweaters for several top projects including BTC, ETH, LTC, XMR, NEO, POLY, and KYBER. The website also accepts new submissions for sweaters too.
For a cool $59.99, you could be strutting your crypto sweater over the Christmas season to remind everyone that you are still in it for moon landings and lambos.
Monero is here. Shipping through the weekend! #monero $XMR @monerocurrency pic.twitter.com/3RE8gg4RhD

— HODLMOON (@hodlmoon) December 15, 2017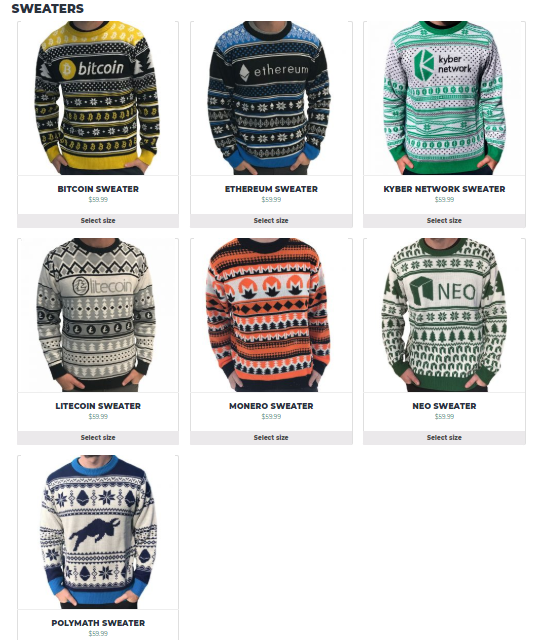 Follow Chepicap now on Twitter, YouTube, Telegram and Facebook!