Why were the Bitcoin price predictions for end of 2018 so horribly wrong?
Lou Kerner, founding partner at CryptoOracle.io, a community-first crypto VC and firm believer that crypto is the biggest thing to happen in the history of mankind, asked himself how it was possible that some of the biggest names in the crypto universe got 2018 so wrong?
Kerner comes right out of the gate and claims that accurately predicting the future value of any asset is just not a thing.
He points out that pretty much every day we are served with stock market strategists giving us forecasts of where the market is going to be in a few months time.
'I know that everyday on CNBC, you'll see stock market strategists giving forecasts of where the market is going to be in 3, 6, or 12 months. Yet, we don't get 3, 6, or 12 month forecasts for the weather on the Weather Channel?'
According to Kerner, we can compare the stock market forecasts with weather forecasts. 'Meteorologists can forecast one day out pretty well', he says, however 'by 10 days out, the variance is pretty significant'.
'While the weather channel never trots out weather experts to tell us how the weather is going to be in three months, CNBC fills its day with analysts projecting out three months or longer' and as you can see below, none of the expert predictions for the end of 2018 come even close to the current price of the number one cryptocurrency.


Kerner further says that it is not just the experts who were way off.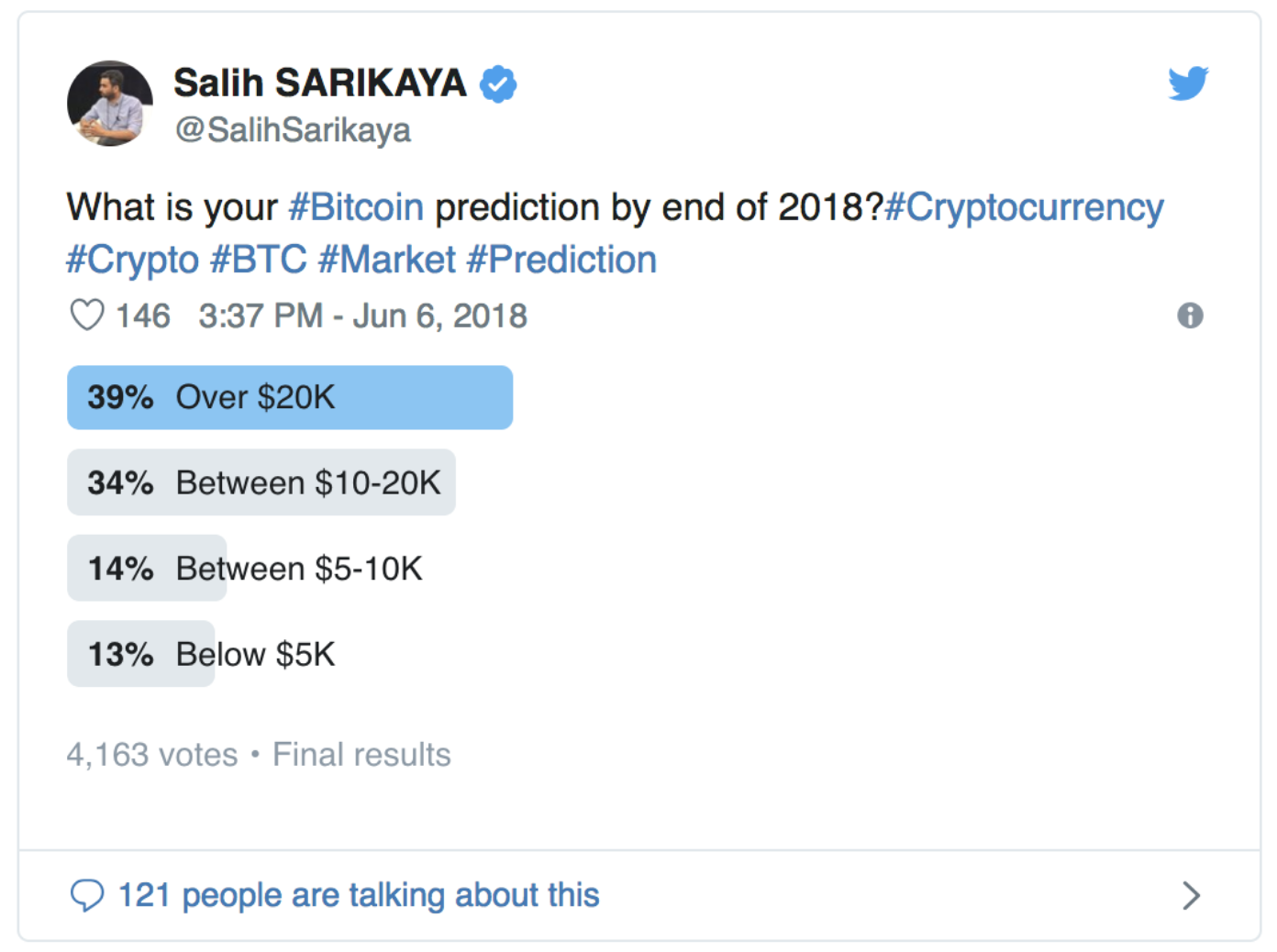 Even though this poll actually points out that 13% of these votes were spot on, which puts the 'layman predictions' ahead of the 'experts'.
Read more: Bitcoin will not hit $50K in 2018! Crypto analyst Ran NeuNer retracts claim
Kerner concludes by saying that he won't be making a prediction of where Bitcoin is going to be in a year.
He just doesn't think predicting asset values is a thing.
There are still three weeks left to trade in 2018, however at this point nobody seems to believe in any of the year end bullish price predictions for BTC. Do you?
Read More: 9 Bitcoin price predictions for 2019 by crypto experts
Follow Chepicap now on Twitter, YouTube, Telegram and Facebook!