5 year crypto-hodl experiment down 69% after first year
While most crypto investors are down in 2018. One crypto investor undertook a five year experiment to drop $1000 on 100 cryptocurrencies and hodl for the entire time. The project saw over 3x growth at one point. However, the goal is to hodl for five years. The user of Buyandhold100crypto.com reported his results on the project after it hit it's 1 year mark with an unrealised loss of roughly 69%
The experiment which is plainly titled "Buy & Hold 100 Crypto: A five year challenge" is pretty self explanatory. What is interesting is getting more insight in what exactly was achieved in the space of one year, including a massive 3x profit in a few months after commencement.
The users portfolio is currently sitting at $303. Down a whopping $697.
1st Year -$696.64 USD / -69.664% Unrealised Loss https://t.co/qx7Mw0VlXd#VergeCoin #XVG #Vergecurrency #RIPPLE #XRP #TRON #TRX #QTUM #ADA #tronix #CARDANO #SIACOIN #BTC #BITCOIN #cryptocurrency #CryptoCurrencies #DGB #DigiByte #siacoin #sc #loopring #lrc #bnb #buyandhold... pic.twitter.com/fxfAyJuvYs

— Buy & Hold 100Crypto (@Buyanhold100) December 9, 2018
Currently, only 6 projects are in positive to USD fiat, while 36 coins see green to the BTC price, which the user makes mention that BTC was at $9831 when the project commenced.
Some projects have obviously become null and void since the commencement of the experiment, including the massive top 100 jumper of 2017, Bitconnect, which is now defunct and worthless.
Recap: RIP BitConnect, we hardly used ye (hopefully)
The three projects that are still green in USD value, are TRX, which us up 247.67%, BNB which is up 123.31% and ZRX which is up 44.58%
The top three projects compared to BTC pricing is one again TRX, up 1416%, BNB up 861.34% and ZRX at 545.02% to BTC.
The user outlines the top 5 cryptocurrencies in the project below, each project was allocated roughly $10:
Top 5 cryptocurrencies so far :
Tron (TRX) + 244.67 %, from $10.04 to $34.89
Verge (XVG) + 123.31 % , from $9.62 to $21.90
Ox Protocol (ZRX) + 44.58 %, from 10.11 to $14.44
Ripple (XRP) + 44.30 %, from $9.75 to $14.07
MANA (Decentraland) +608.24 %, from $9.77 to $12.83\


Recap: Is Tron (TRX) "more decentralized" than Bitcoin or Ethereum?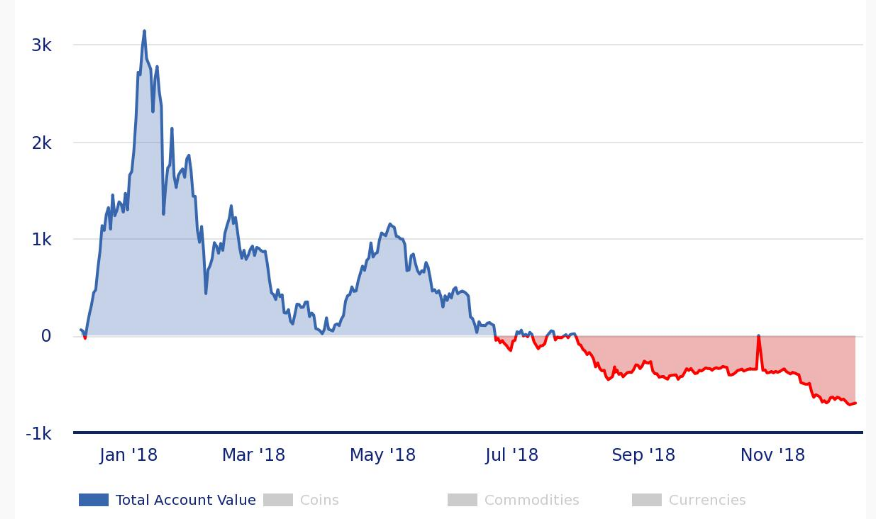 The next four years of the project will be extremely interesting to see. Feel free to visit the website to learn how to run your own similar experiment.
Follow Chepicap now on Twitter, YouTube, Telegram and Facebook!