More green holds the sideways trend, EOS and LTC lead recovery
All of the first 10 cryptocurrencies by market capitalization, excluding BCHSV, are on the green side after accumulating gains in the last few hours.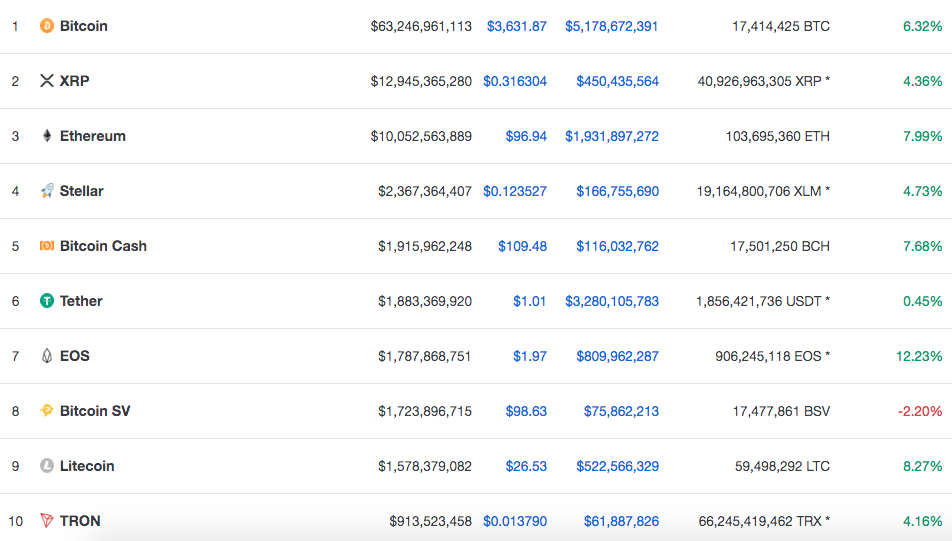 As data from coinmarketcap.com shows, gains are spread over the top of the chart with all cryptos gaining over 4%, excepting Tether and BCHSV. Global market capitalization is up as well, approaching $115 billion, about 10 more than at the beggining of the weekend.
Bitcoin is currently holding well above $3,500 and even attempting a run at the $3,600 mark, having gained more than 6% during the last 24 hours.
The recovery is currently being led by EOS, more than 10% up at the time of writing, with only Dash accumulating similar gains along the top 20. EOS is seeing some of its largest gains since summer, approaching again the $2 barrier after suffering several days in red, and closing up on Tether for the 6th position in market capitalization, only about $100 million below.
Despite the losses in the last 24 hours, Bitcoin Cash Satoshi's Vision could also overtake EOS' 7th position anytime, as the gap between both is only of $50 million. However, BCHABC has again gained some distance with Craig Wright's project.
Along the whole top 100 cryptos leading in market capitalization, 96 of them are in green, with Bitcoin Private having the largest gains of the day, up by more than 15%. Of only 4 projects which are suffering losses during the last 24 hours, Factom is the most affected one at 6% down.
Read more: Market showing some stability after recent upswing, can it continue?; Justin Sun 'to rescue developers from collapse ETH and EOS' with TRON fund
Follow Chepicap now on Twitter, YouTube, Telegram and Facebook!