Bitcoin is trading below $3500, $16 billion gone in crypto market
It's another day of red in the cryptocurrency market with Bitcoin dropping over 10,60% in the last 24 hours. $BTC is trading for $3434 at the time of writing.
Another $18 billion of the total crypto market cap got wiped out during the last day, although a slight recovery has put the damage at $16 billion right now. The rest of the market is following closely or is performing even worse than Bitcoin. In the top 10, XRP lost 10%, Ethereum 15%, Stellar close to 16% and Bitcoin Cash 12%.

Read more: Is Bitcoin dead? 8 reasons why it is NOT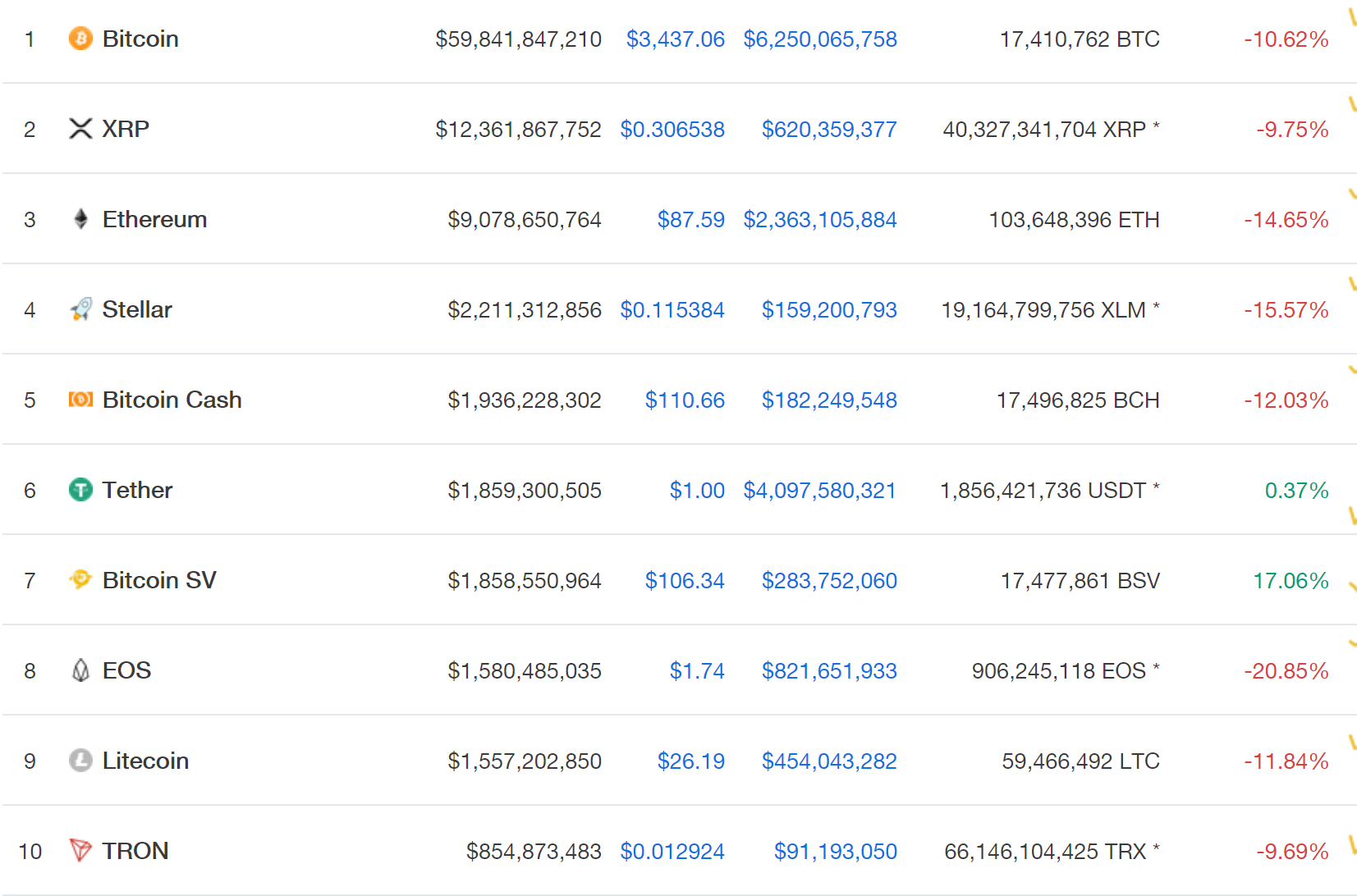 EOS is the worst performer of the top 10 with a loss of 21%. Bitcoin SV, the Bitcoin Cash fork, is performing surprisingly good, gaining 17%.

Read more: BCH SV has seen a double flippening- overtaking BCH ABC and Tether
There are some other good performers in the top 100 today. XYO Network just entered the top 100 after a 27% growth on a red day. Stablecoins are popular again as well, with Gemini Dollar, Paxosm True USD and USD Coin all trading for $1,01.


VIDEO: Where will Bitcoin bottom out?
Read more: 9 Ethereum price predictions for 2019 by crypto experts
The worst performers in the top 100 are Factom (-32%), Polymath (-28%), IOST (-23%) and Waves (-22%).



The total cryptocurrency market is now valued at $108 billion, the lowest point since the beginning of August 2017.

Read more: 9 Bitcoin price predictions for 2019 by crypto experts
Follow Chepicap now on Twitter, YouTube, Telegram and Facebook!

VIDEO: What do non-crypto holders think of Bitcoin?