Use Nano to get beer on tap with this kegerator: 'From bear market to beer market'
On Reddit, a video has surfaced of a Nano powered kegerator that allows you to tap a beer by sending over some Nano. The machine is made by Redditor zily88.
The creator of the NanoBrewed kegerator explains in a post on Reddit how he made the machine.

He writes that 'Basically, a Raspberry Pi runs a kegerator Kivy app, which connects to a full node and also controls a flowmeter and valve. I only have 1 beer and one valve/flowmeter pair hooked up, but from a software perspective adding 3 more is trivial (and hardware isn't difficult either). I just wanted to show this before going on vacation for a week. I wrote the software, brewed the beer, built the kegerator, and wired the electronics. I can also take credit for the shaky, out of focus camera work. A friend of mine designed the logo and the graphics in less than a day for me and did a fantastic job.
I also figured I would throw my opinion on the decimal shift in just for fun ;). In this example, the beers cost 0.005 Nanos. If a Nano was worth $1,000 USD, this would be $5. I show units in 'Chips', which are 1/1000th of a Stone (rai stones!), which is 1/100th of a Nano. 1 Nano = 100 Stones = 100,000 Chips. A beer in this example costs 500 Chips, and there is no need for a decimal.'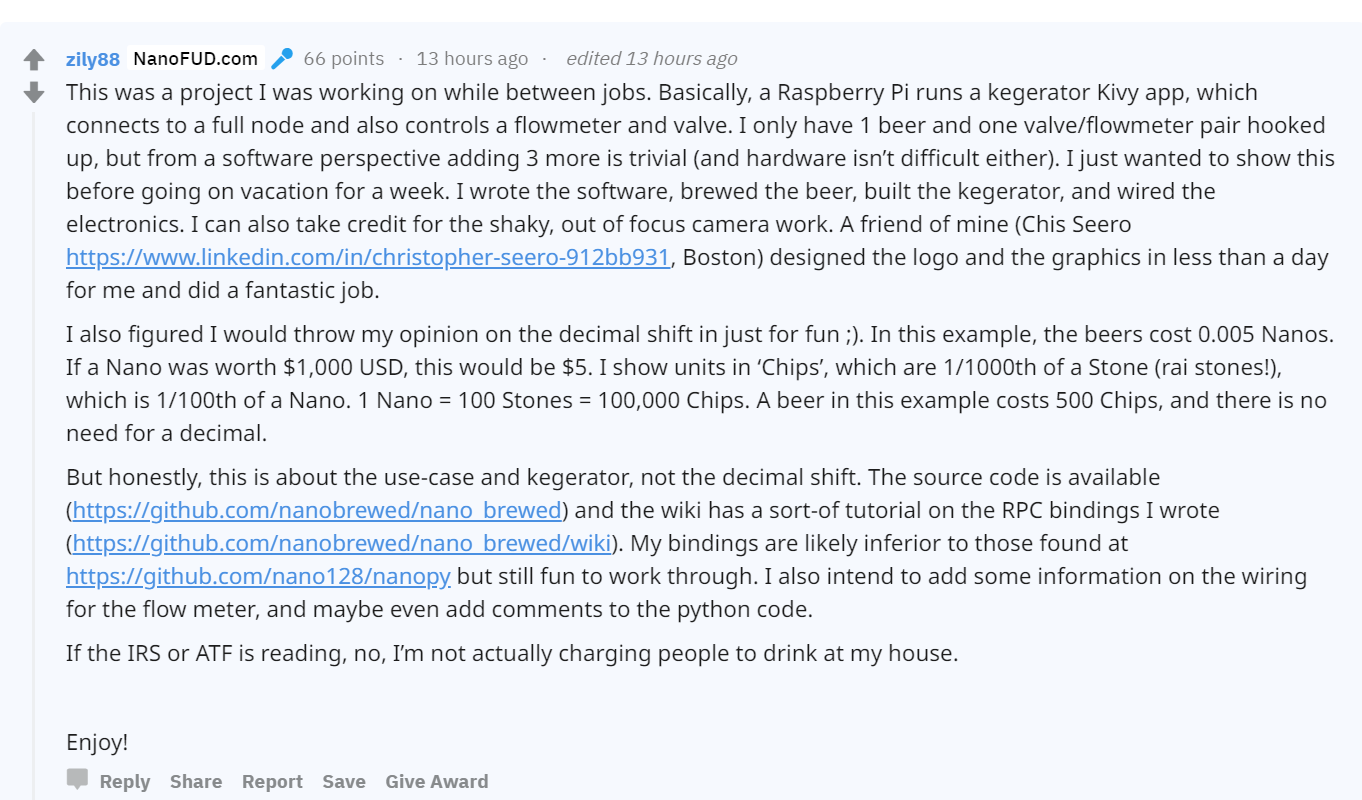 Obviously, fellow Redditors took the opportunity to share some crypto puns straight away. Card
Whatever you may think of the quality of the brew, it's a form of crypto adoption most of us will be able to adopt to fairly quickly.

Card
Follow Chepicap now on Twitter, YouTube, Telegram and Facebook!