Bloomberg analyst Mike McGlone says Bitcoin is headed for $1,500
In a recent interview, the Bloomberg intelligence analyst Mike McGlone suggested that "There's little to prevent fading Bitcoin prices from reaching the continuous mean of $1,500,"
Bitcoin is back to seeing red as the markets took a major hit on Wednesday with BTC dropping below $3,800 support. The downtrend appears to be gaining strength and BTC will be looking to retest new yearly lows.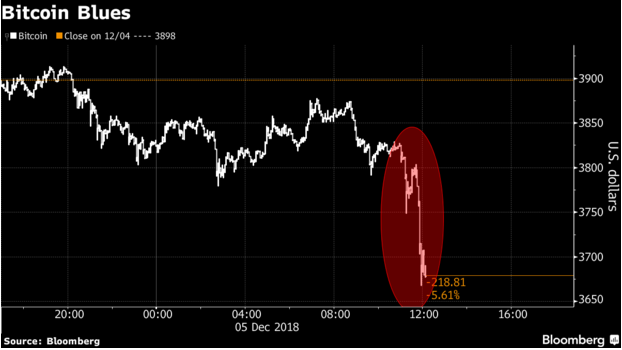 McGlone believes prices for cryptocurrencies are likely to weaken even more, with BTC potentially falling around $1,500. That would entail another 60% drop in BTC prices which would make it the biggest decline in price in the history of the project, already being down close to 80%.
McGlone credits his theory to a rush of exits from investors, the recent Bitcoin Cash split as well as selling related to year-end tax purposes.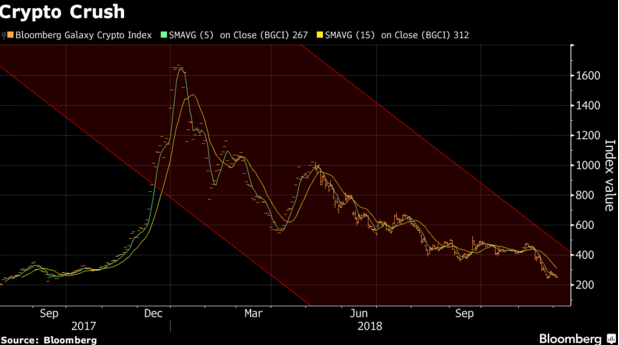 The Bloomberg analyst believes the prices are a reverse of the 2017 frenzy seen in Q4 2017 and Q1 2018. However it appears the analyst credits the $BCH fork with the current decline in prices - "The hard fork was a key trigger that signaled the technology is way too nascent. You had these dicey characters threatening to destroy each other and institutions said 'It might be best if we stay away from this for a while.'"
McGlone believes the correction is a positive step for crypto stating "The trend is lower prices, lower volatility, reduced speculation, and the preponderance of stable coins," he said, referring to tokens designed to minimize volatility in prices. Until then, cryptocurrencies have to find a base to see more stability and "we're not near that base yet."