Zcash (ZEC) now live on Coinbase, price down almost 10%
Zcash (ZEC), the 19th largest crypto by market cap, has recently been launched on Coinbase. Despite this support from one of the most influential platforms in the crypto space, the price of ZEC has continued to fall.
Read more: Coinbase Pro announces it will begin supporting Zcash trading as of today

Coinbase initially launched that it would be offering trading of ZEC at the end of November, and the 'Coinbase effect' saw its price rise significantly. However, it wasn't able to hold this momentum in the middle of a market-wide crash, and has dropped off significantly since then.

ZEC is now live on Coinbase and in the Android and iOS apps. Coinbase customers can log in now to buy, sell, send, receive, or store ZEC. https://t.co/dR1h0eqIqe

— Coinbase (@coinbase) December 5, 2018
After going live on Coinbase Pro 5 days ago, the ZEC token is now officially available on the platform for regular users to buy or sell with fiat as well as other select cryptos. The price, however, is still down around 10 percent for the day.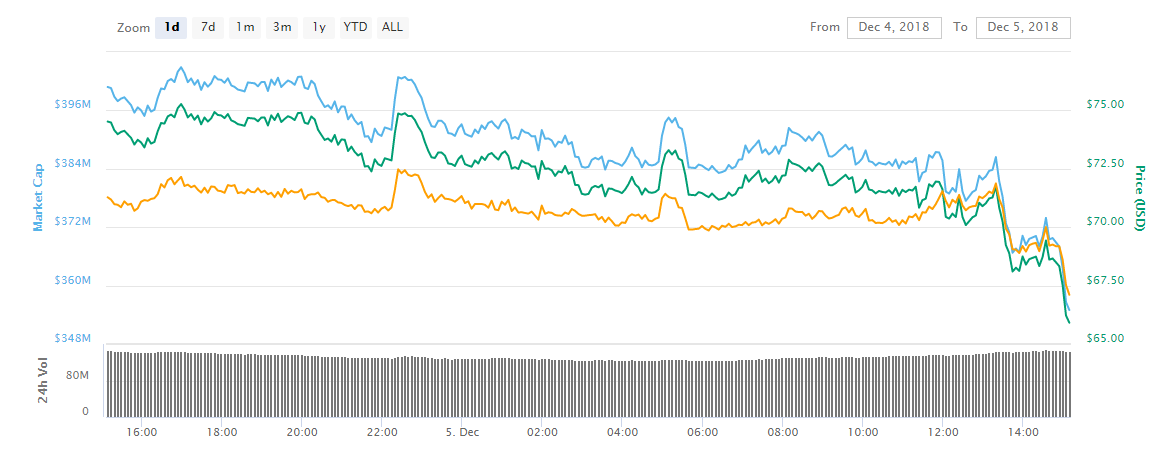 Wow, and now it's going down.. You guys are like the kiss of death lately. What is going on?

— Kelly Slade 💧⚡️🐼🍿 (@sladecrypto) December 5, 2018
The coinbase effect 😂
Everyone PLEASE stop asking XRP to be listed, I don't want it to go to 15 cents :( pic.twitter.com/dwvknCYN4J

— Contrivurse ⚡️ (@KonaKrypt) December 5, 2018
Follow Chepicap now on Twitter, YouTube, Telegram and Facebook!