Venezuelans buy record amounts of BTC
In the aftermath of the launch of the first national cryptocurrency of the world, the Petro, Venezuelans are buying record amounts of Bitcoin week after week, according to data gathered by Chepicap.
Economic instability and rampaging inflation seem to be the reasons that are causing citizens of Venezuela to rush into cryptocurrency markets. As it can be seen from the graph below, Bitcoin acquisitions via LocalBitcoins are on an all-time high.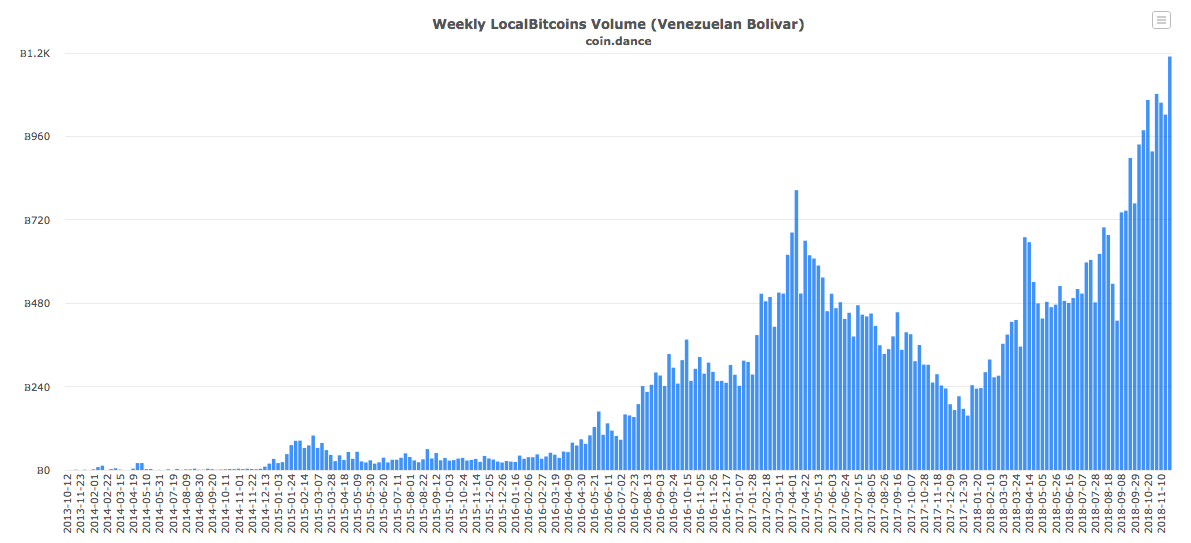 Last week, 1190 Bitcoins were acquired from the South American country. According to data from coin.dance, this signals the sixth all-time high in BTC purchases from Venezuela since September.
The launch of the oil, diamonds and gold backed Petro, the world's first national crypto, has already seen several polemics, such as the recent announcement that acquiring it before 2019 would enable the owner to exchange it for any fiat or crypto asset. Of course, this left the community wondering what would happen if bought after the deadline. Maduro has described the Petro as 'the most important saving instrument of the country'.
Measures to promote Petro's adoption included the requirement to use it in payments of passport fees, which can amount up to $200.
On the 29th of November, President Nicolás Maduro announced a change in the local fiat sovereign bolivars' price of the Petro. It will be more than doubled, from 3,600 to 9,000 sovereign bolivars, in an effort to catch up with inflation that will be accompanied with a 150% minimum wage increase.
Read more: Venezuelan law officially regulates Petro's integration nationwide; Venezuelans can convert Petro into other cryptos if they invest before 2019
Follow Chepicap now on Twitter, YouTube, Telegram and Facebook!