Huobi has launched the first cryptocurrency billboard campaign in the U.S
Huobi has announced that the USA division of the business has launched the first cryptocurrency billboard campaign in the United States today.
Huobi US (HBUS) has officially launched its first billboard campaign titled "Evolved Crypto Trading". The company CEO Frank Fu admits "We decided to launch this campaign, because no U.S.-based digital currency exchange has done a campaign like this before"
Fu also reiterates that the company want to play a major role in creating brand awareness and credibility by going back to the basics of advertising. Currently the HBUS office is based in San Francisco and the company will be looking for new office space next year due to their rapid expansion.
HBUS celebrates the news by offering zero trading fees for the rest of 2018, with Fu saying "We wanted to give crypto traders a break when it comes to the high fees they regularly have to pay when trading on other exchanges. It's time American traders are given freedom and more options when it comes to what they want to buy when it comes to digital assets."
Our US partners @HBUSOfficial have just launched America's First Crypto Billboard onto San Francisco Building! https://t.co/Iprud3sHU7

— Huobi Global (@HuobiGlobal) December 1, 2018
Head of communications at HBUS, Kevin Leu says the campaign is inspired by Wall Street, "We wanted to show that there's a true digital asset revolution — and evolution — that gives people more options to access the ever-expanding ecosystem of digital currencies and the products and services that accept digital currencies."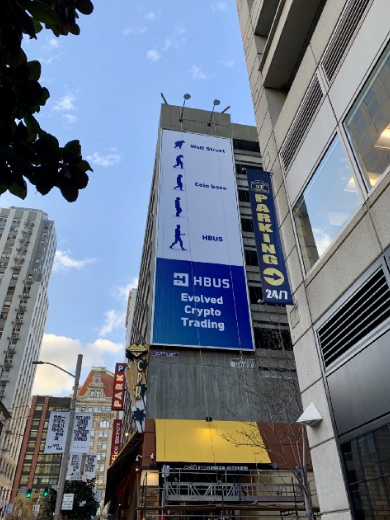 Follow Chepicap now on Twitter, YouTube, Telegram and Facebook!