Could Dan Larimer be leaving EOS to start a new project?
Recent speculation has been flying around suggesting Dan Larimer could be looking to move on from EOS. Telegram Messages from the CTO of EOS, apparently indicated that Larimer was looking to push another project that he was interested in, potentially leaving the $4 billion in raised funds EOS to its own demise.
Larimer who previously worked with Steemit announced on telegram that he was interested in creating a new token that would be "immutable, non-programmable, and limited to a currency role".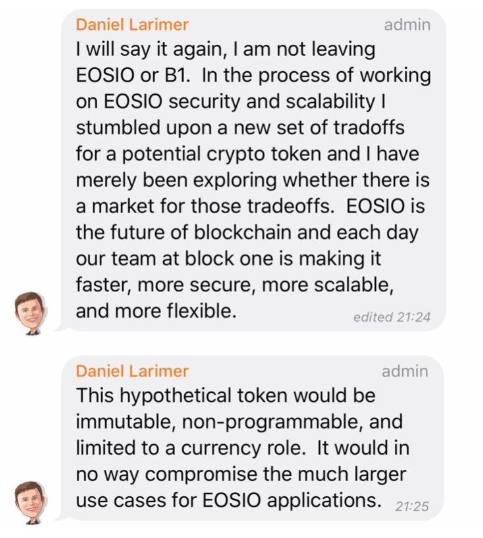 Steemit has since fallen on tough times, most recently having to laid off 70% of their staff due to financial difficulties.
Recap: STEEM parent company lays off 70% of their staff
The timing of Larimers announcement coupled with the news this week of Steemit laying off staff could not have been worse. Most community members believe that Larimer has collected his cash from EOS and will be onto the next project, which will most likely require a large start up fund as in previous projects cases.
The Dan Larimer effect. $Steem rekt even though they had a huge premine.
Just giving it a couple of years for $EOS. https://t.co/ZYi0sgN2gR

— WhalePanda (@WhalePanda) November 28, 2018
Larimer insists he is not leaving EOS, simply stating "I stumbled upon a new set of tradeoffs for a potential crypto token and I have merely been exploring whether there is a market for those tradeoffs"
Larimer is quickly gaining a reputation for his ability to start projects and jump onto something else, all while making big cash in the process. The potential effect of Larimer leaving EOS could have a huge effect on the project.
EOS is currently ranked #6 on Coinmarketcap, priced at $2.94.