Is Bitcoin dead? 8 reasons why it is NOT
Are you here because you want to know if Bitcoin is dead? Well, it's not. And these are 8 reasons why.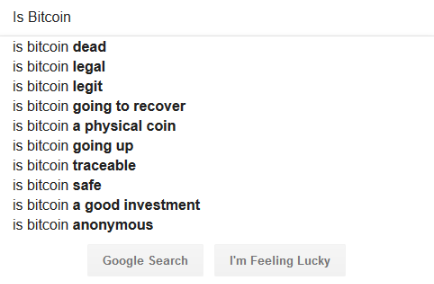 Is the price of Bitcoin down to zero?
No.
Bitcoin is trading above $4000 at the time of writing. Yes, that's far from the all time high of close to $20K, but people are still buying Bitcoin every day, every hour, every minute. Don't forget that only two years ago, one Bitcoin was worth $736, and in September of 2017 BTC was still trading below $4000.
Many people got hurt post-bull run, but zoom out and look at the bigger picture. Patience is the name of the game here.


Blockchains are very resilient. #Bitcoin is biggest, baddest & most resilient of them all. Look at order book depth. Not dead.

~544 days block reward will halve. Then extensible $BTC will have a lower inflation rate than $gold. Hardest soundest money ever. Right, @saifedean?💪 pic.twitter.com/9gsNVGhWE9

— Trace Mayer (@TraceMayer) November 28, 2018
Is this the worst Bitcoin bear market EVER?
Nope, we've been here before.
We've seen worse.
And we survived.
Be like the hodlers who got through the 2011 crash. Who dealt with the -83% retracement in 2013. Who were not afraid anymore during the 2013-2015 bear market because they knew that Bitcoin would come back stronger, eventually.
Bitcoin is dead, long live Bitcoin.
Hi CNBC Crypto Crew, can you please discuss about the gains after each of the last 4 major Bitcoin crashes (80% or more) in the past 9 years.

The 2014-2016 bear market resulted in a 13,100% gain from the bottom of $150.

It is not all gloom and doom afterward.@MelissaLeeCNBC pic.twitter.com/SaemestTRL

— Tommy Mustache (@tommyp408) November 29, 2018

Did Bitcoin stop working?
No.
Every 10 minutes or so, a new block is created on the Bitcoin network. Every 10 minutes, assets, sometimes worth millions of dollars, are being sent across the world, fast, for a low fee. Bitcoin dead? Miners are still mining, blocks are still being created, transactions are still being confirmed. The fact $BTC dropped in price didn't change anything to that.
I swear... I am tired of people claiming that #Bitcoin is dead. Unless you can sign a message using a mined block from the 2010-2011 era, your opinion is bullshit. Want to know how much I sold my first block of BTC 50 for? 3 free meal coupons from Chic-Fil-A. #perspective

— John Anderson (@jja0) 25 november 2018

Are institutional investors walking off because of the BTC price drop?
No.
What would institutional investors be more interested in? Buy at the all time high together with the retail investors, or wait for the inevitable correction and buy in 5 times cheaper?
And if they buy at those cheap prices, would they send out a tweet right away, stating 'I just bought 9000BTC on Bitfinex'? No. They accumulate quietly, knowing that, at some point, retail FOMO will push their ROI.
Some big players might be buying already, some institutional investors might be waiting on the sidelines for the price to drop even further, or for regulation to be implemented, or for the right products to be launched. But one thing that's certain is that when it comes to buying, institutional investors like blood on the streets more than hype.
As Michael Novogratz says, when the time is right, institutional FOMO will kick in too.

Read: VanEck: institutional investors don't care if BTC ends 2018 at $3,000 or $10,000
Investors, with bitcoin trading under $4,000:

Retail: "should I sell and buy back lower? should I open a short? should I just give up? is it going to zero? was this whole crypto thing a scam after all?" 📉😱

Institutions: "please keep selling us cheap bitcoin. thank you." 😆💰

— Jake Chervinsky (@jchervinsky) November 25, 2018
Are the OG's turning their back on Bitcoin?
NO!
Or as Carlos Matos would say...
The OG's are still are here. The visionaries that are busy building this crypto space day in day out. The ones who've seen it all, the bear markets and the FOMO, and that in both situations kept their focus and continued working on their products that make this industry more mature.
You know, CZ is still here...
Uncertainty = opportunity https://t.co/IS923KaTaq

— CZ Binance (@cz_binance) 28 november 2018
Coinbase's Brian Armstrong is still here... (And even became a crypto billionaire recently)
Arthur Hayes, still here and smiling...
Holla at ya boy! pic.twitter.com/NCPijW3S70

— Arthur Hayes (@CryptoHayes) 19 juli 2018
Andreas M. Antonopoulos, Jameson Lopp, Mark Yusko, Tim Draper, you name them... They are all still here and didn't stop believing. Whose side are you own, panic sellers or these guys?
Many people are dumping crypto because they are scared of the uncertainty ahead.

Guess who isn't going anywhere?@cz_binance@CryptoHayes@brian_armstrong@blythemasters@CaitlinLong_@aantonop@MarkYusko@JWilliamsFstmed@lopp

I know which group I'm rolling with.

You?

— Pomp 🌪 (@APompliano) November 28, 2018

Did the fundamentals of Bitcoin change?
No.
Let's just steer away from the price action for now. Is transaction volume on the Bitcoin network still high? Are people actually using it? 'Pomp', take it away and explain to us why Bitcoin fundamentals haven't changed at all.
Went on @cnni to talk about why Bitcoin isn't dead.

Don't listen to the noise. Focus on the fundamentals. pic.twitter.com/hgwR7eyhND

— Pomp 🌪 (@APompliano) November 23, 2018

But mainstream media are saying...
Bitcoin is dead, right?
According to mainstream media, Bitcoin died 326 times already. Still here. Not dead.
Read: Crypto is "fatally flawed": UBS exec Paul Donovan calls for the end of Bitcoin

Is there any hope left for Bitcoin?
Oh yes. Let's just have a quick look on what's to come in the short term and you'll know for sure Bitcoin is not dead.
Nasdaq is onboard
Despite the bear market, Nasdaq will move forward with its plan to list Bitcoin futures. Nasdaq will be partnering with VanEck to bring a new type of Bitcoin futures contract to reality, backed by Nasdaq's surveillance system for spotting price manipulation in the market. Q1 2019 is when the product should launch.

Read: Nasdaq and VanEck looking to bring an "upgraded" Bitcoin futures product to market
Bakkt is coming
Q1 is also the quarter where New York Stock Exchange's Bakkt will launch its Bitcoin futures. The institutional trading platform is working on big partnerships with Microsoft and Starbucks, with CEO Kelly Loefler stating that the partnership with Starbucks is 'to be able to give their customers more options in their ability to pay, to be able to pay with Bitcoin'.

Read: Bakkt CEO gives insight into the Starbucks partnership and the BTC futures delay
Fidelity is stepping it up
And what about Fidelity Investments? With their Digital Asset Services, a custody and trade execution services for digital assets, the investment giant wants to build a bridge between institutional investors (hedge funds, family offices and market intermediaries) and the cryptocurrency market. Fidelity, working with over 13,000 institutional clients, is aming to launch in early 2019 with Bitcoin, Ethereum and maybe even other altcoins.

Read: Morgan Creek founders: time to buy crypto, according to institutional investors
But when ETF?
Whenever it comes. Bitcoin and the cryptocurrency space won't stand or fall by a fast SEC ETF approval. It would be a confirmation for many institutional parties that the SEC takes Bitcoin seriously, and a Bitcoin ETF will come at some point, but with Nasdaq, Bakkt and Fidelity getting onboard, the near future is looking very bright for Bitcoin and crypto already.
Will the price follow and is there a new bullrun coming in Q1 2019? Who knows. Will the cryptocurrency space make huge steps this next period? Yes!
So, to come back to that question you've asked yourself. Is Bitcoin dead? Well, after reading all this, give the answer yourself in the poll down below.

Read more: 9 Bitcoin price predictions for 2019 by crypto experts
Follow Chepicap now on Twitter, YouTube, Telegram and Facebook!