Binance shuts down Eastern European accounts
Several users of Binance have complained in the last hours about having their accounts shut down. It seems like Serbia is the country with most affected users, but citizens from Bosnia and Herzegovina and Belarus are also reporting the same issue.
Only a couple of weeks after Iranians received notifications to withdraw their funds from the Malta-based exchange, it seems like Binance is now shutting down users from several Eastern European countries. Many of them received a message such as this one when trying to log in: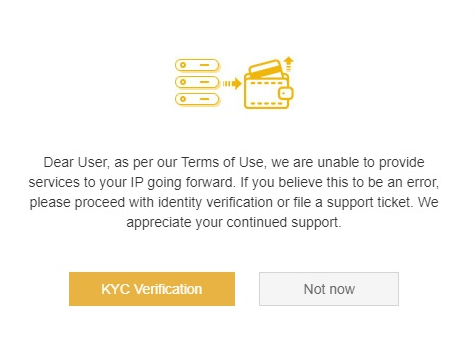 The first complains arrived to social media a week ago. As the first Serbian Twitter user reports, who seemingly had completed the optional KYC process, he received a message requesting him to withdraw his funds.
@cz_binance What's going on? Why you are not provide service at Serbia? pic.twitter.com/Hi3sb1waqT

— Sava85Bg (@Sava85B) November 22, 2018
@cz_binance for us from Serbia #ThanksgivingDay is not to happy because you ban trading #BinanceSerbia

— Dimitrije Veselinov (@meetec) November 23, 2018
However, it seems that in the days that followed, the process of shutting down accounts was reconsidered or at least temporarily stopped, given that the rhythm of complains seemed to slow down, and also according to this tweet:
For anyone in Serbia...Binance has lifted trading ban..move ur crypto to wallet and sleep easy..
Binance will be making a list very soon for other countries.. pic.twitter.com/GRGMC7wBXy

— MR TRON (@22freespirit22) November 23, 2018
In the last 24 hours, the crackdown appears to have extended to many more users, judging from social media complains. Serbians were predominantly affected, judging from their large presence amongst protestors in Twitter and Reddit.
@cz_binance @binance I got an email from you saying that you are stopping servise due to change of TOU... But there is no explanation should I withdraw all funds and how much time I have? My country is #Serbia 🇷🇸

— Aleksandar Aleksic (@AlxndrAlxc) November 28, 2018
Some Serbians pointed out to the possibility of the ban being induced by sanction lists that include the country, just like it recently happened with Iran. Regardless, they were not the only ones affected on this shutdown season. Users with a Belarusian IP address also seem to be not welcomed anymore into Binance:
@cz_binance Hi. I'm From Belarus and many from our country have received this message. What we need to do now? Can we withdraw our wallets or its a temporary issue ? pic.twitter.com/SMS9rnlm4O

— Cryptonec (@crypt0nec) November 29, 2018
Why is ban Belarus 🇧🇾? 😪

— Siarhei Shuleika (@SShuleika) November 29, 2018
As we mentioned, the ban appears to extend as well to Bosnia-Herzegovina:
Bosnia and Herzegowina is blocked from today!

To bad and very sad for us... i hope #Binance can fix this in future!

— Crypto.ba (@UFFcrypto) November 29, 2018
Moreover, it seems as if there are other possible affected countries, even outside of Europe:
Have friends out of Serbia, Belarus, Bosnia complaining about being booted out of @binance today. Reading that Cubans, Venezuelans etc are getting the boot as well. Russia next?

So, @cz_binance, caved in under global elite pressure to ban users from sanctioned countries? Shame.

— iam516 (@coldturkeyguy) November 29, 2018
But I think you have to explain why you ban people from Myanmar 🇲🇲 using binance ? #binance why you keeping it quiet?

— Martin (@nine30am) November 29, 2018
It seems as if this regional crackdown might be related to compliance with financial regulation in these countries, more than to sanction lists. But just as in the case of Iran, sadly the hardest blow will be taken by common users.
Read more: Iran turns to crypto while Binance pushes Iranians off exchange