ICO's have liquidated over $17 million worth of ETH in the last month
It is being reported by The Next Web that during the last month alone, ICO's have sold about $17 million worth of Ethereum. This marks the third largest selloff of ICO funds this year, and comes at a time when the market is struggling near yearly lows.
Over 170,000 Ether have been liquidated in the last month, and 100,000 of that was in the last week alone. This is coming at a time when the crypto market as a whole is near the lows for the year, though there is some hope.
Even if this feels dramatic, it is in fact the third biggest major withdrawal that has happened this year. The other two happening in January and September.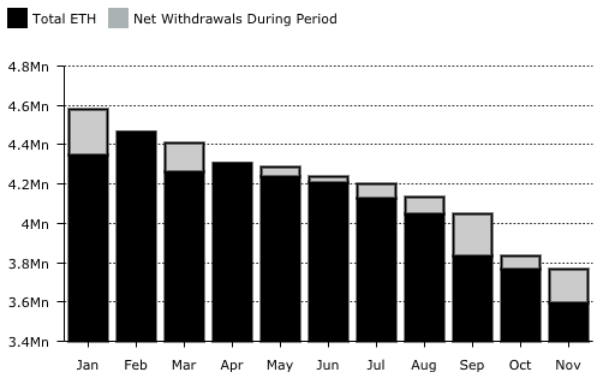 To be fair, using the raised Ether to cover operating costs during a deep bear market is one of the things these funds exist for, and one could argue that development teams on average have not been overzealous, as only 22% of total Ether funding has actually been liquidated in total so far.
Ideally, this money is being used to pay talented people for research and development, as that can't just come to a standstill in a downtime for the market. Seeing as the market may be showing humble signs of growth, this selloff may slow down, but only time will tell.
Read more: Barry Silbert tells CNBC "the ICO market is dead", but crypto will recover