Ethereum killer?: Justin Sun encourages ETH developers to switch to TRON
Rivalries between competing cryptocurrencies are expected and outdoing the opponent and showboating is nothing new, but what about recruiting the opposition? Justin Sun just gave Ethereum (ETH) devs 4 reasons why they should make the leap over to TRON.
In bear market, #Ethereum developers should migrate your token to #TRON immediately. 1. 0 transaction fee, no gas in #TRX. 2. Compatible to #ETH, 0 migration cost. 3. 2000 TPS. 4. #TRON dex listing. You can easily increase your token value 100% with High liquidity. $TRX

— Justin Sun (@justinsuntron) November 26, 2018
When it comes to Etheum killers Tron, is certainly up there; the proof, it seems, is in the pudding, and if the pudding is Dapp transaction volume then Tron is looking mighty tasty. TRONbet - a Dapp that seems to be lifting Tron from obscurity to prominence-, cited as many, if not more transactions in October than the entire Ethereum network's 500,000 individual transactions.
Tron's Dapp platform is also vastly outdoing Ethereums IDEX, with Tron netting around 551,700 In daily transaction volume and ETH recording a mere 9,120.
Furthermore, Tron has grown exponentially in the past year, currently sitting at 1.6 million daily transactions, compared to ETH's 500,000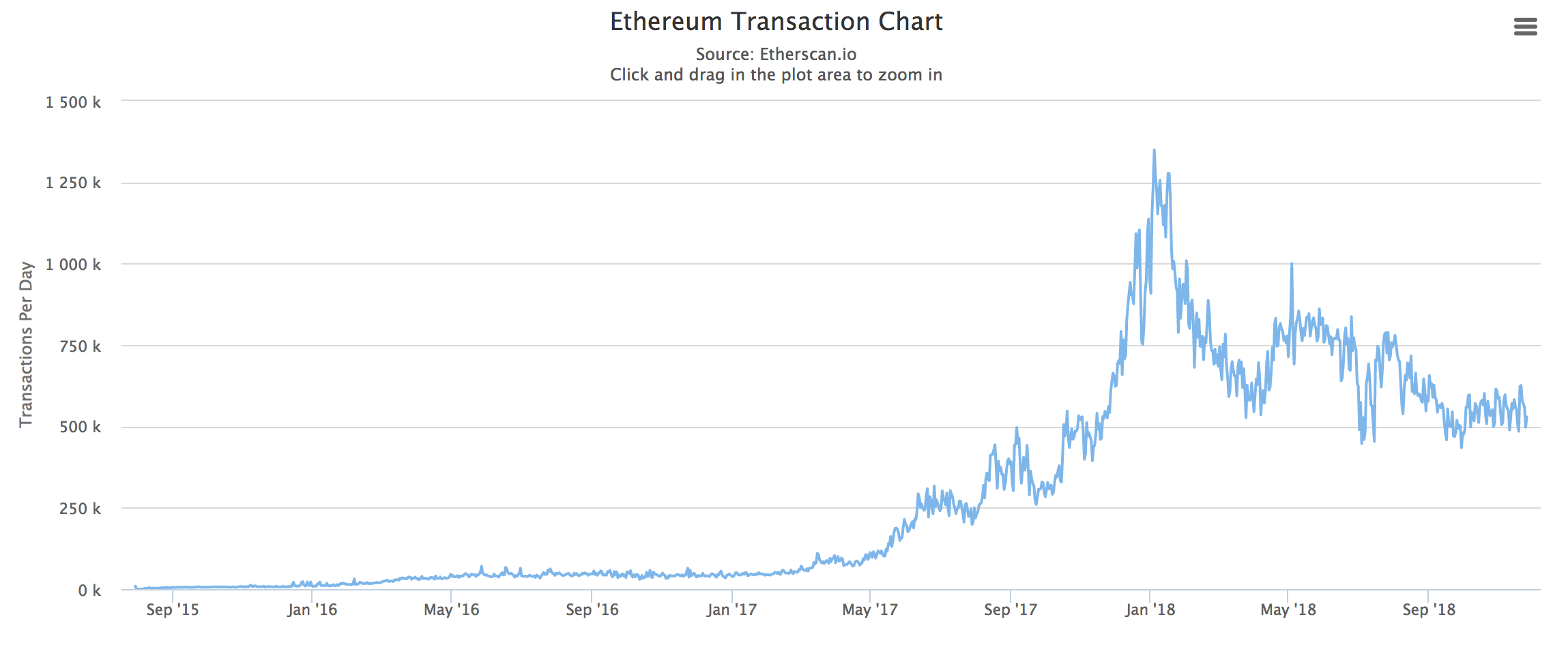 Following Sun's comments Tron's loyal followers took to Twitter to provide support:
Let em' know Justin!!!

— Crypto Tone (@Crypto_Tone1) November 26, 2018
I still enjoy Ethereum, but TRX is like upgrading to fiber from DSL. Great network and the community is extremely active with Tron. Keep up the great work! As long as the internet is truly decentralized, I don't care who makes it out. Want us all to win

— Hamza 🤲 (@OasisValentino) November 26, 2018
Others saw it as a call to arms:
Wow, just like a declaration of war against #ETH pic.twitter.com/6nNs0xvC4C

— Tokenview (@tokenview2018) November 26, 2018
@VitalikButerin shots fired... pic.twitter.com/jjMGMXHOEe

— Tron Whale (@TR0N1XWhale) November 26, 2018
Read more: Should XRP and Tron be added on Bakkt? Community says yes!; Tron surpasses Ethereum in dApp volume: 422 million transactions in 24 hours