Market sheds another $9B, BTC hits its lowest, BCH not yet recovering
The market hasn't yet seen a light at the end of the tunnel as red still dominates the top 100 coins.
A day after the Thanksgiving, the bear is still around, probably to pick up the leftovers from last night. Crypto market is yet to see a light at the end of the tunnel as it sheds another 9 billion in less than 24 hours.
Total market cap according to Coinmarketcap is $138,883,043,468 as of writing time.
Top 10
On the top 10, only Tether (USDT) sees green with 0.21% gain, while the remainings still suffer. Bitcoin (BTC) is losing by almost 7% and currently valued at $4,285, which is the lowest to date.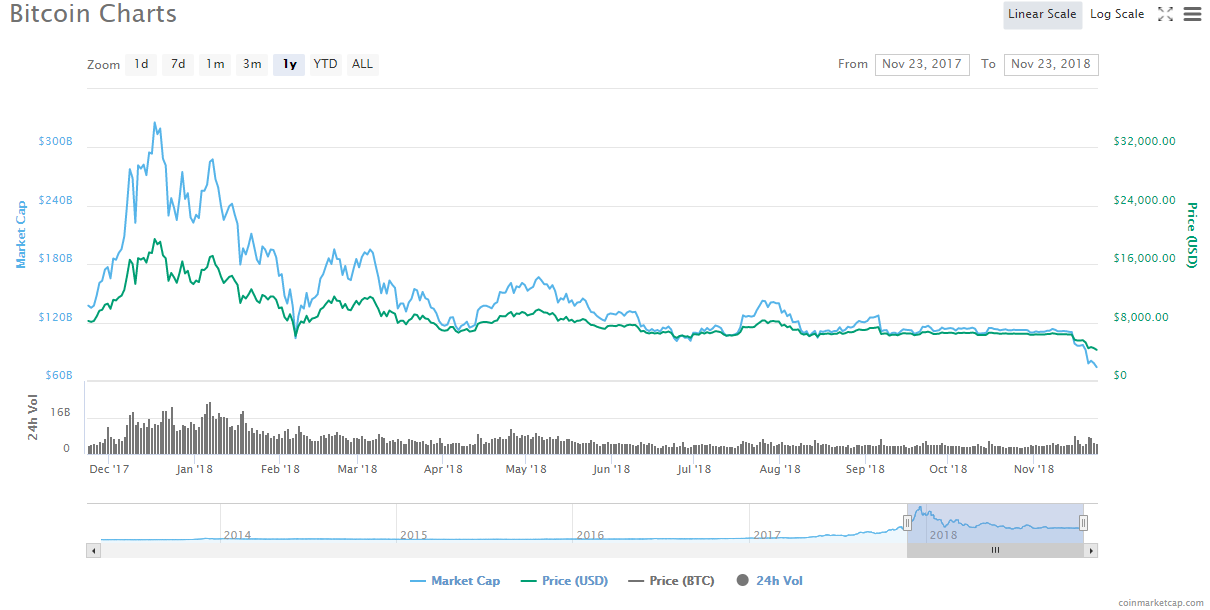 Bitcoin Cash (BCH) seems to have not shaken off the impact of the hard fork yet as it's currently leading the loss in the top 10 with -14.20% at $202 price point.
Biggest loser/gainer
The top 100 is dominated by red, with few exceptions coming from Aurora (AOA), Augur (REP), Dai (DAI), Ark (ARK) and Theta Token (THETA). Each is gaining by 4.13%, 11.49%, 0.98%, 4.42% and 0.43% respectively.
With the greens are led by Augur, which is valued at $10.15, the reds, on the other hand, are led by SIRIN LABS Token (SRN) that sees a significant loss of -37.69% at $0.08 price point.
Prices are correct as of writing time