Market update: All is red, all is (un)well, except TUSD, USDC and PAX
Cryptocurrency market is not yet recovering from its previous state, with most coins in the top 100 are in red color.
Overall
The market is not yet recovering, with almost all coins in the top 100 still see red. Total market cap as of writing time is $154,970,944,783 according to Coinmarketcap.
Top 10
All coins in the top 10 are losing, with the biggest loss experienced by Bitcoin Cash (BCH) with -44.19% at $213.
The largest crypto, Bitcoin (BTC) is losing by 14.39% and valued at $4,717. Although slightly losing by 0.79% at $0.48 price point, XRP successfully overthrows Ethereum (ETH) from its runner up position with over $19 billion market cap.
Slipped to number 3 with over $14 billion market cap, ETH is currently valued at $142.95 and is losing by 14.63% in the past 24 hours.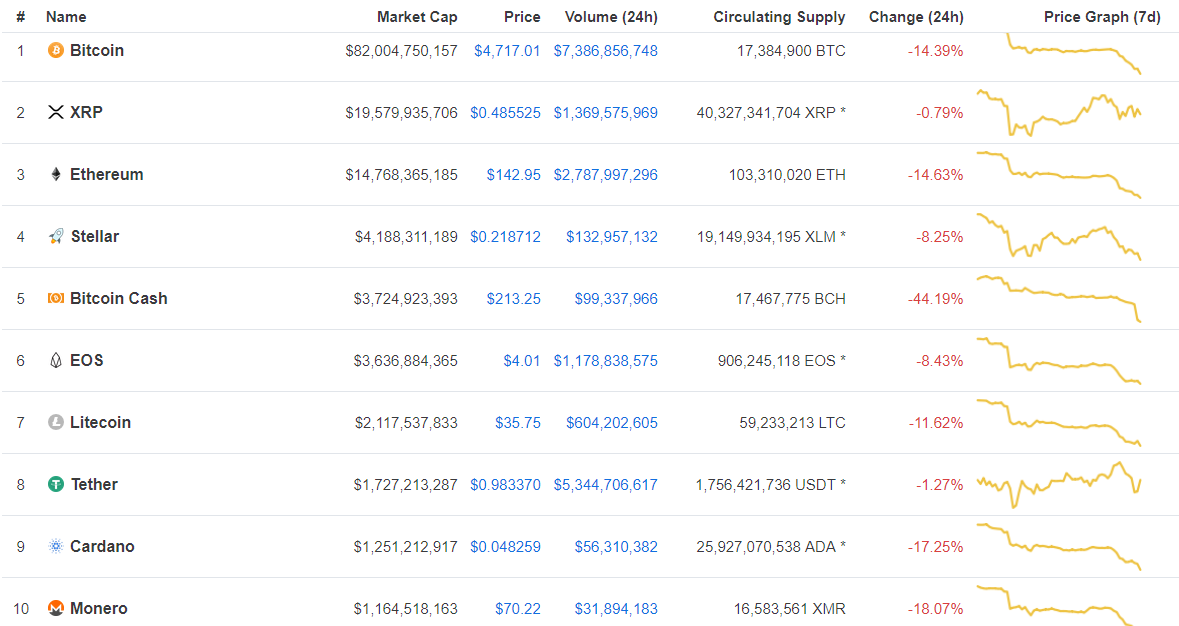 Top 100
Dominated with red, few coins in the top 100 stand out as they manage to gain in the past 24 hours. They are TrueUSD (TUSD), USD COin (USDC), and Paxos (PAX) that gain by 0.43%, 0.74% and 0.21% respectively.
Aside from BCH, Metaverse ETP (ETP) also experienced a major loss with -40.13% at $1.60 price point.
All prices are correct as of writing time