Market showing sideways movement, Factom surges 35%, XRP up 2%
Following one of the most painful drops this year, markets are now recovering a little, as total capitalization crawls back up over $185 billion. Factom is showing huge gains of 35%, while the top 10 of biggest gainers are showing at least 5% increase.
Bitcoin has been moving sideways with a 0.61% increase, trading at $5,602 and keeping its dominance fairly steady at 52.6%.
Ethereum is showing pretty much the same sideways movement as BTC, down with -0.39%, and is trading at $173.90.
Stellar is showing a loss of -1.77% and is currently trading at $0.24.
EOS (-1.45%), Litecoin (-2.41%), Cardano (-1.16%), and Monero (-2.52%) are all top 10 coins that are showing losses during the last 24 hours, according to coinmarketcap.com.
Tron is not doing any better and is down with -1.75%, while Ethereum Classic is the worst performer in the Top 20, trading at $7.22, and showing a loss of -3.33%, followed closely by Dash , which has seen a -3.31% loss since yesterday.
XRP is the only top 10 coin that is showing minor gains for the day, with 2% increase and trading slightly under the $0.50 mark.
The top 10 best gainers today are: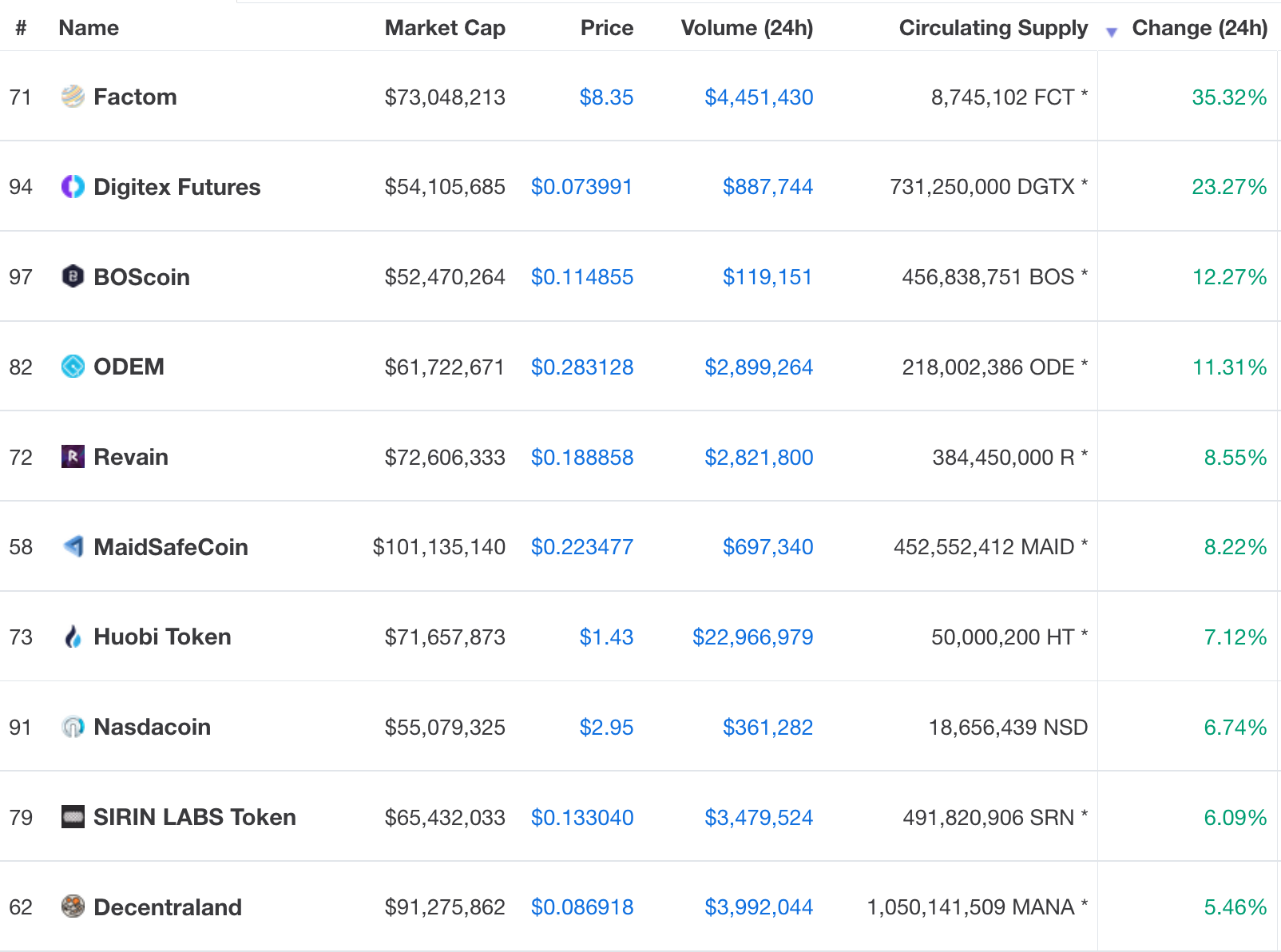 The top 10 worst performers of the day are:
Top 100 avg 24h return: 1.6±5.0%; 65 up, 35 down$BTC 0.6% $ETH 1.1%
Best:
33.2% $FCT @factom
26.3% $DGTX @digitexfutures
12.9% $BOS @boscoinio
11.2% $ODE @ODEM_IO
9.3% $R @revain_org
Worst:
-2.1% $BAT
-2.3% $STRAT
-2.4% $NEXO
-3.4% $ETN
-5.1% $ETP#bitcoin #crypto pic.twitter.com/tQ3GRxSrvr

— Coin Trading Analytics (@CoinTradingBot) November 19, 2018