BCH fork complete, what's next?
The Bitcoin Cash fork has finally happened. The blockchain has finally been split into $BCHABC and $BCHSV. While only a couple of exchanges have offered pre-fork trading to get an idea of the situation, it will be expected that once all exchanges have completed the fork, a better understanding of which chain is more dominant will be visible.
$BCHABC appears to be clearly dominating hashing power and looks like the favorite chain at the moment following an impressive day. The pre-fork trading saw over 44% gains on the day while $BCHSV saw a drop of 58%
Both projects have over 4,500 BTC trading volume on Poloniex.
Currently $BCHABC is up over 30% with $BCHSV down 50%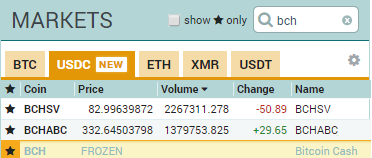 BCH holders will mostly likely begin dumping their $BCH and the community can begin to decide which coin will be the more dominant chain. The upcoming days for the BCH chains will be very interesting!
The two newly created chains will be looking to gain supremacy by becoming the true chain. $BCHABC and $BCHSV will be in a showdown to determine which chain miners will stick to and mine. The majority hashpower spend on either project will undoubtedly lead to the more popular coin to end up as the dominant chain. Currently $BCHABC is leading the race in terms of hashing power and also is 1 block ahead of $BCHSV. Right now it would be easy to assume $BCHABC is the more popular chain, and unless something dramatic happens within the next few days. It looks unlikely to change.
Stay tuned to Chepicap for live updates and news on the fork