Despite the market crash, little-known Nasdacoin surges over 300%
In the wake of the absolute carnage that has continued to decimate the market since yesterday, there was one coin that seems not only immune to the bloodshed but appears to be thriving off it.
A little-known coin ranked 68 on CoinMarketCap has not only somehow managed to avoid the devastating losses experienced throughout the market, but has actually emerged as one of the biggest earners. Nasdacoin is 334% in the green, and seems to determined to continue its upward trajectory.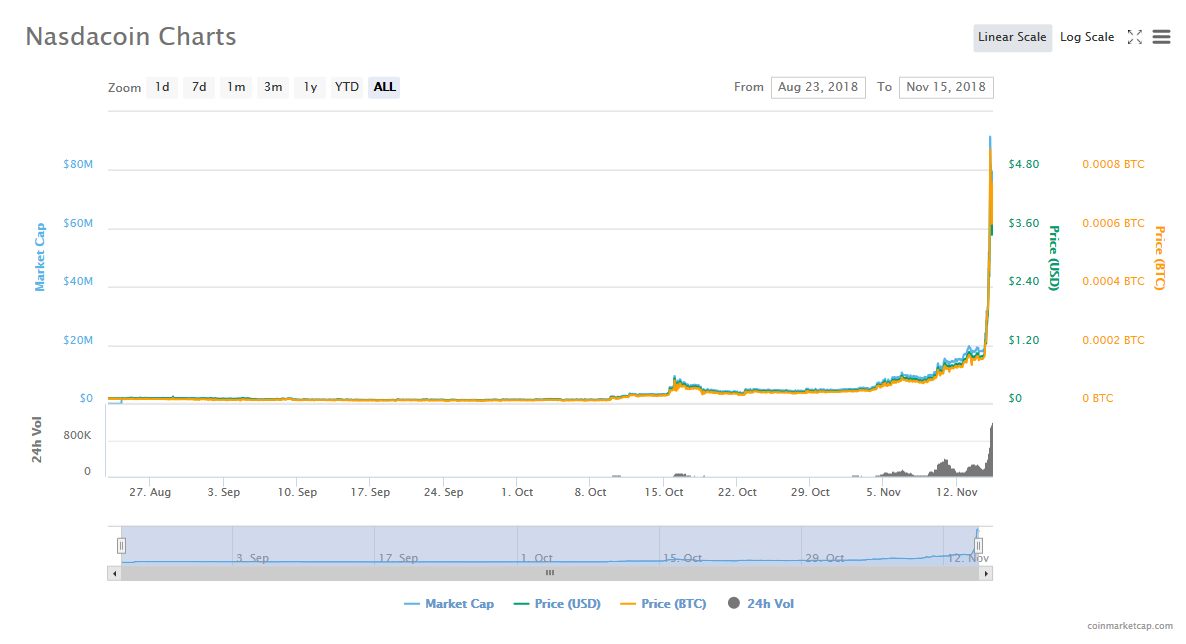 According to data on Coingecko, today marks the coin's highest ever trading price, currently at $4.22. By comparison, the lowest the coin has traded in the last 24 hours is $0.96. The project has a market cap of around $78 million.
These kinds of gains are typically followed by a rather steep price correction, however, so unfortunately Nasdacoin will have to reuturn to earth sooner or later.
According to the whitepaper, Nasdacoin is an encrypted, open-source, decentralized, peer-to-peer currency that employes a PoW/PoS hybrid format. This type of format is said to benefit entrepreneurs by allowing them to invest their wealth into a decentralized currency while earning them interest.
Nasdacoin was recently listed on Mercatox exchange, which would have had some impact on the coin's price. It's unlikely that the listing announcement was responsible for the entire price leap though.