There are now 4,000 Bitcoin ATMs around the world
Increasing the accessibility of cryptocurrency remains a key step in creating a more mature cryptocurrency market. Bitcoin ATMs play a role in this process. By the end of this month, it's expected that there will be more than 4,000 of them.
While this number pales in comparison to the number of traditional ATMs, Bitcoinist reports that over six ATMs are brought online every day.
North America currently holds the vast majority of Bitcoin ATMs, with 71.3% of them being found on the continent. 25% of ATMs can be found across Europe, while Asia has around 2,56%. Oceania, South America and Africa sit at the bottom of the list.
It's interesting to note that over 60% of Bitcoin ATMs also support altcoins to some degree. Litecoin is the most popular, with Ethereum coming in second and Bitcoin Cash following. Additionally, support for Monero, Dash, Dogecoin, and ZCash are increasing.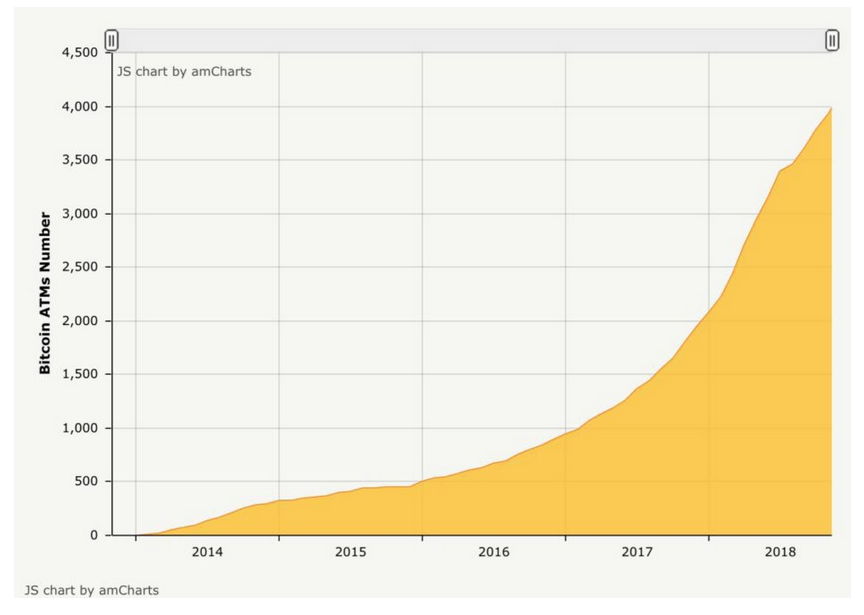 Nearly 40% of Bitcoin ATMs also support the buying and selling of cryptocurrencies. However, transaction fees remain comparatively high. Buying cryptocurrency comes with an average fee of 8.8%. Selling is slightly cheaper, with a cost of 7.9%.
Chepicap reported at the end of last month that a partnership between Bitcoin ATM producer LibertyX and ATM manufacturer Genmega may enable Bitcoin transactions on 100,000 regular ATMs across the US.