Hackers target crypto exchange Gate.io, infect nearly 700,000 websites
In more crypto crime-related news, hackers have targeted StatCounter, one of the Internet's most popular traffic analytics services and inserted malicious code in the main-tracking script, according to ZDNet.
While the malicious code was found to have infected over 688,000 websites, Matthieu Faou, the malware researcher at ESET who discovered the hack, says that just one site was the target. Faou explained that this specific type of code hijacks Bitcoin transactions made through the web interface of cryptocurrency exchange Gate.io.
The JavaScript file a StatCounter is reportedly still infected, but Gate.io has since removed the script from its site.
Faou says the malicious code was first added to StatCounter on Saturday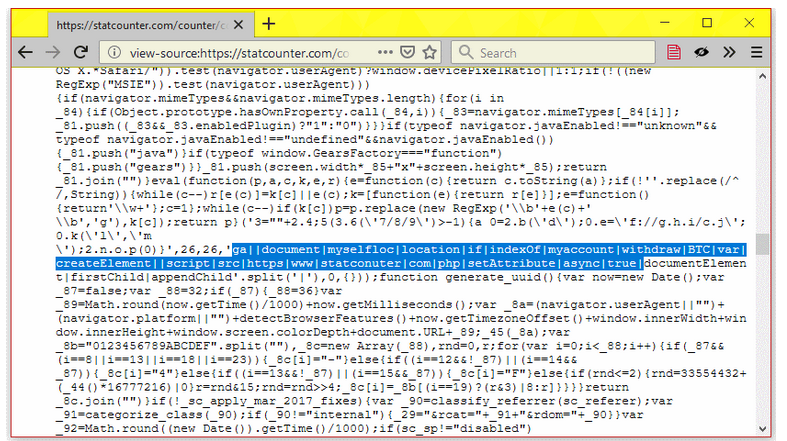 The other 688,000 websites that have been infected have nothing to worry about Faou says. For now at least, as the code is designed to only target only of Gate.io. Additionally, the code doesn't activate unless the page link contains the "myaccount/withdraw/BTC" patch.
Faou explained that the code works by replacing a Bitcoin address the user enters on the page with one that is controlled by the attacker.
"A different Bitcoin address is used for each victim. We were not able to find the attackers' main Bitcoin address. Thus, we were not able to pivot on the blockchain transactions and find related attacks," Faou said, suggesting that it isn't possible to gauge just how much Bitcoin might have been siphoned.
Read more: India's national disaster authority hacked to promote Bitcoin scam on Twitter, The Elon Musk Twitter scammers made away with up to $175,000 today, Major European film company's Twitter account hacked to promote Bitcoin scam