Is Tether (USDT) about to get untethered again?
After recovering from the significant price plunge that happened a few weeks ago, Tether may be struggling to keep its dollar peg once again. In the last 24 hours, the token has dropped as low as $0.95 on some exchanges.
While this isn't a drop as big as the one that USDT saw in October, 5 percent is still a major price change for a so-called stablecoin. A number of factors may have affected this abnormal fluctuation.
Firstly, several rival fiat-backed tokens have recently been launched and subsequently listed on major exchanges. Gemini dollar (GUSD) and Paxos Standard (PAX) are two of Tether's newer stablecoin competitors, and both have received a seal of approval with listings from OKEx and Huobi, amongst others. This could be affecting demand for USDT.
Read more: Day of the stablecoin: OKEx lists four fiat-backed tokens

Others are pointing to Bitcoin Cash's recent spike as a potential cause of the price drop, suggesting that BCH-USDT pairs on low-liquidity exchanges might be disproportionately affecting the price. Coinmarketcap's usefulness as a data source was even called into question.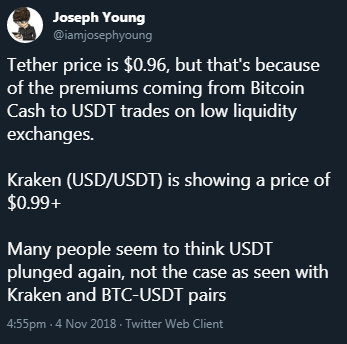 Correct. Someone is spreading FUD again and sheeps blindly follow pic.twitter.com/eWE0cJdT4C

— A10-C ฿TC Wolf (@DNaftaplin) November 4, 2018
Read more: Tether (USDT) still hasn't regained its dollar peg