Crypto exchange turns a bus into an ad to bypass Google's crypto ad ban
A cryptocurrency exchange in the Netherlands decided that Google's and Facebook's restrictive advertising policies aren't going to stop them. As a workaround, SATOS turned a whole bus into an ad.
"The idea of out-of-house marketing first came to us when most advertising platforms turned their back on cryptocurrencies," SATOS marketing manager Stijn Jager told Hard Fork. "Google and Facebook didn't allow us to advertise anymore. Which used to be our way of communicating with our target audience."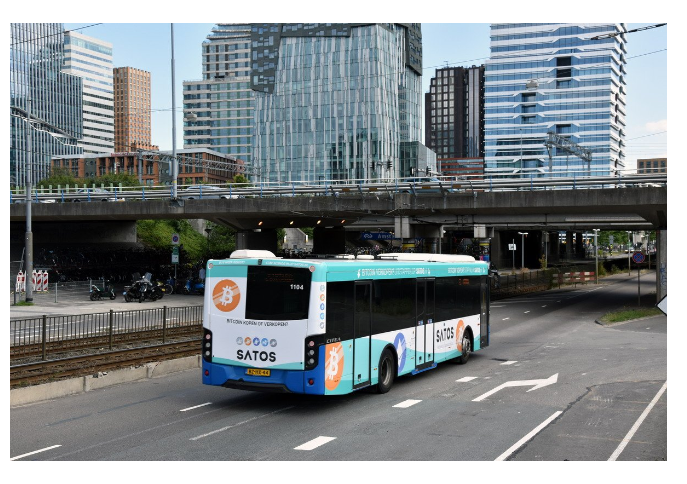 Then the penny dropped: "When Bitcoin became the talk at any office, everyone – literally everyone – was our target audience," Jager said. "We started thinking of a replacement for mainly Google."
Shortly after, in July, the exchange launched its first bus-based ad, quickly grabbing the attention of those around Amsterdam.
Spotted this bus at Amsterdam Airport @Schiphol :) #bitcoin #btc #satos pic.twitter.com/dJduMjZKSC

— Famous Crypto Hubbles (@FamousCryptoHub) July 5, 2018
"We praise ourselves of being unique and standing out," Jager stated. "Not only the bus is unique, but the (Dutch) copy has inside jokes." Referring to the Bitcoin boom of last year, the bus reads "Missed the bus? You can still get in [on the hype]."
Jager clarified that the aim of the campaign was to raise brand awareness rather than attract new users. "Advertising on buses is pretty new. With this campaign, we prioritized impact over gross reach," he explained. "We'd rather reach 20 people who take a picture of the bus and share it with friends, than of reaching 200 people who simply pass by the ad."
It's important to note that both Google and Facebook have since revised their advertising policies.