ICO funding hit a yearly low in October
ICO funding hit yearly low last month with just $54 million (USD) raised during October, a drop of almost a third from the previous month.
The ICO has been a top formula for start-ups and investors alike, although controversial to some, it's had a winning streak in recent years. However, its prominence seems to be withdrawing.
Using data collated from ICOdata and Coinschedule, the consensus appears to be that ICO funding has dropped, dramatically.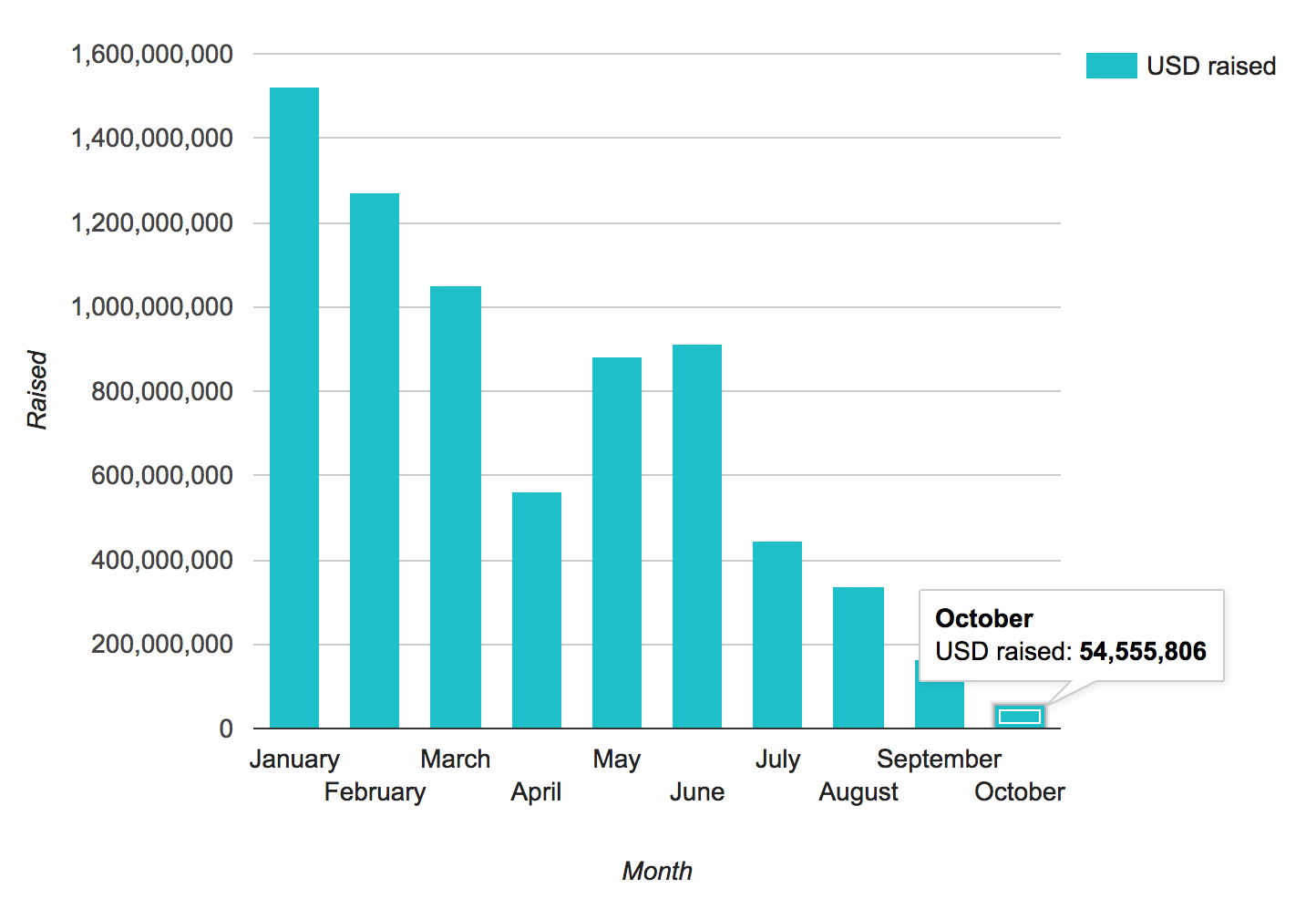 Stats from ICOdata.io
According to ICOdata the amount raised via ICO's this month totals just over $54 million ($54,555,806 USD), a figure that pales in comparison of January's $1.5 billion in funding, a gargantuan reduction of 96%.
Although the totals calculated by Coinschedule are grouped by the closing date of the ICO and are valued using the BTC exchange rate at that time, it still tells a similar story; definitively citing October as a yearly low for ICO funding and at the lowest its been in 18 months.

It was reported by multiple outlets earlier this month that September had seen a 17-month low in ICO funding, hinting that ICO participation may be waning; but why?
Of course, comments such as the ones uttered from the SEC damning many ICO tokens to securities status play their part; pushing investors further away due to regulatory constraints. On top of this, a report conducted by Grayspark back in September asserted that almost 46% of all ICO fail to gain even a single dollar; which may also contribute to a decrease in retail investor interest. Furthermore, with Bitcoin volatility at a noticeable low and the crypto market fending off the bears it's perhaps fair to expect lessened excitement and anticipation over quick returns.
Read more: Report: Nearly Half of ICOs launched since 2014 failed to make any money