New report reveals over 25% of investors suffered large losses in September
A new report put out by OK Blockchain Capital has revealed that the market is still quite hard on many investors. Almost half had suffered at least some loss, with nearly 25% reporting large losses for the month of September.
The results shown in the report are rather dire. 24.47% of those surveyed reported small losses for last month, while another 23.58 % reported large losses. That means nearly 50% experienced red in September. Another 24.53% claimed they remained essentially flat.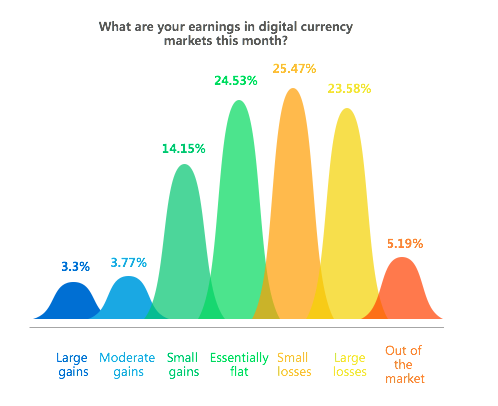 It should be noted that in this case small losses means being down 10%-30% and large losses is 30% to 100%+.
Other interesting facts revealed by the report were the most popular holdings in crypto, the big three being BTC (23.11%), EOS (16.04%) and ETH (12.26%). Furthermore, despite the hard times, a solid 69% of the people surveyed feel crypto will rise over the next 6 months.
With the outlook so bleak, it is good to see so many investors optimistic! Stay right here with Chepicap for any and all updates!