Whale moves $80 million in Tether (USDT)
A whale has moved over 80 million in Tether (USDT), leading some to speculate of an incoming pump…
The funds, amounting to precisely 4.21% of Tether's total market cap, were moved just a few hours ago:
🚨 🚨 🚨 80,111,888 #USDt transferred from Unknown wallet to #Huobi

Tx: https://t.co/cFv2XsigEh
To: https://t.co/01ELcaXsKb

— Whale Alert (@whale_alert) October 17, 2018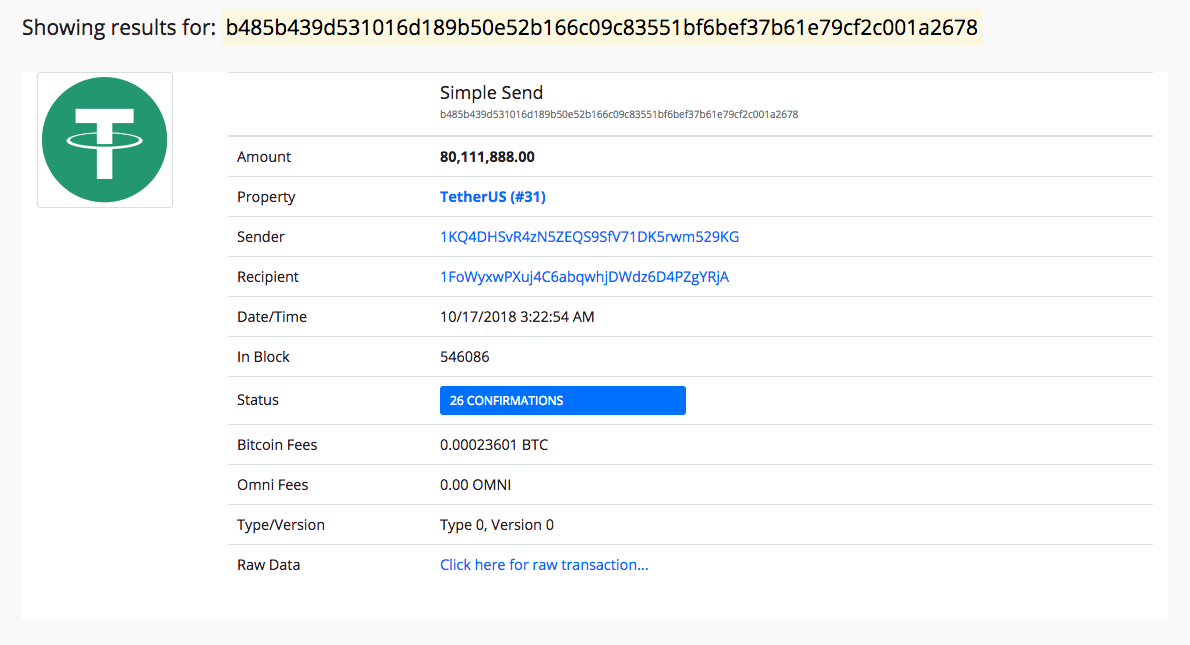 There was some speculation as to whether the $80 million (USDT) was to transferred to a Huobi wallet or a Binance wallet; however further investigation of Tether's Rich List seems to point the address to Binance:

confirmed by the recipient address:

The movement of this whale didn't go unnoticed with many speculating as to what it meant on a wider scale:
Well MOOOOON Incoming

— RookieBTC (@rookieXBT) October 17, 2018
@Bitfinexed is this the exit :)

— Kraymer (@Kraymer) October 17, 2018
To buy $BTC right..... guys....?

— A.C.I.L(AllCryptoIsLegal) (@crypto_n_more) October 17, 2018
This follows Monday's mass sell of USDT, which saw huge movements into Bitcoin as a result; pumping BTC to 22% and leaving USDT hung out to dry. A new all time low of $0.86 was reached by USDT, a price fairly unbecoming of a stablecoin.
It's unclear what started the sell-off, although sources point to both a faked Binance post stating the delisting of Tether, as well as the temporary pause on the Bitfinex exchange's fiat deposit system.
Things went back to relative normality when Bitfinex announced their "new and increasingly robust" fiat deposit system.
Follow Chepicap now on Twitter, Telegram and Facebook!
Read more: What's going on with Tether? Trading as low as $0,86, 'a lot of volatility ahead'; Bitfinex statement in the midst of Tether storm: fiat deposits open in 24 hours; CZ shoots down false rumor but Tether still drops 5 percent