Ethereum Price Analysis: Holding above $200 and trending closely with the market
It has been a tumultuous week for crypto, and ETH has been swept up in the volatility as well. News came out that expected upgrade Constantinople may not make it out this year, though this revelation has not seemingly affected the price very much. ETH is currently following the ebb and flow of the market quite closely, though a slight premium still exists on Bitfinex.
Highlights:
- Constantinople upgrade may be delayed until 2019.
-Currently trending closely with market, despite news.
-Bull break could take us up to $215, if enough momentum maybe $220.
-Bear break could take us down to $200 to $190.
-On the daily, price has left descending channel and begun to go roughly sideways, hovering around $200.
After a bump which the whole market saw yesterday, ETH has settled just a bit above $200 and is showing some support on the hourly timeframe. The following charts are from Coinbase as Bitfinex is still notably above the rest of the market, though the same patterns generally apply: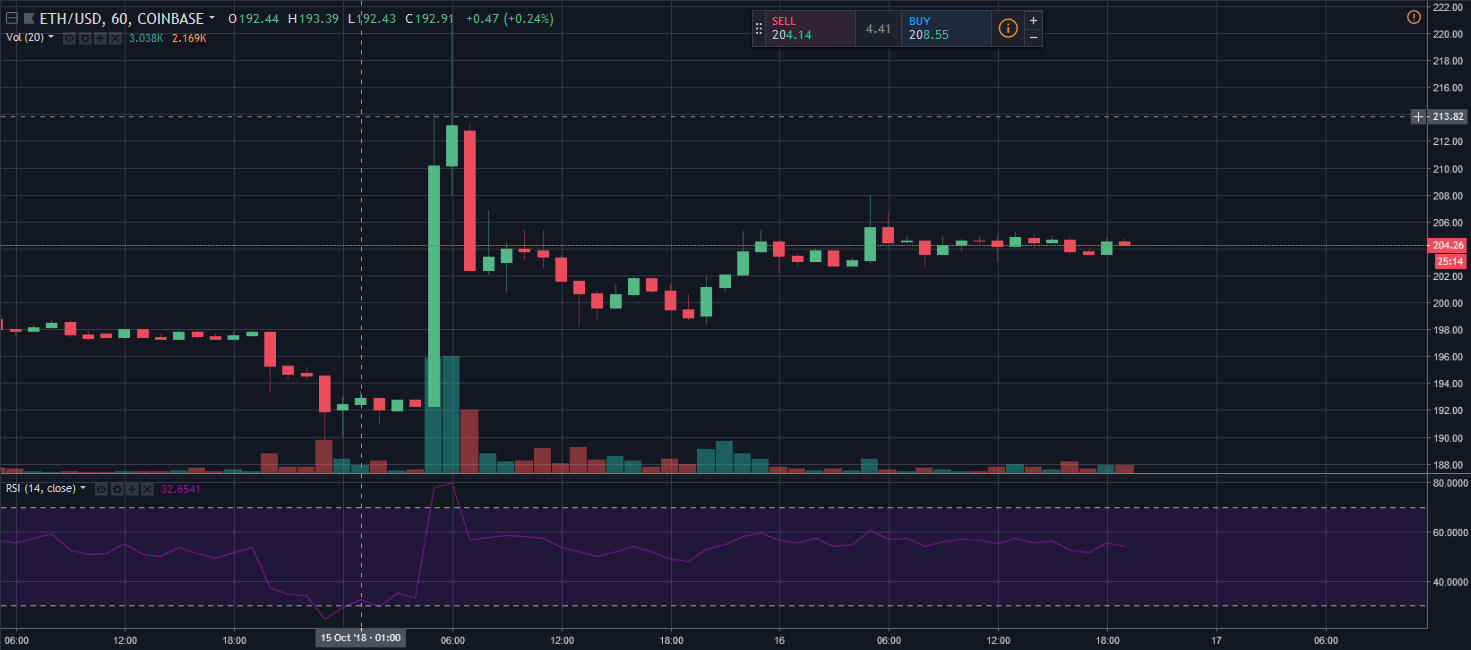 The fairly weak RSI just above 50 doesn't give a ton of confidence for any movement. For now it seems that barring some big news ETH will continue to trend closely to the market. Even so, there is some wiggle room for its own growth or loss.
Bull scenario: A break to the upside could see a run up to $215 or even as high as $220, but with recent performance it is unlikely to go much higher in the short term.
Bear scenario: A downturn at this point would almost certainly put us back below $200, down to likely $190. After that there isn't much support all the way down to around $170, which is the low for the year, but again, that is rather unlikely barring some significant motivator.
Pulling out to the daily timeframe, we can see that ETH recently broke out of a descending channel and has begun to trend more or less sideways:

This is an optimistic sign that ETH has found the bottom of this bear market and though it may go sideways for a while, this is a necessary prerequisit for building the strength it will need to begin a bull run.
Until some more exciting news comes along for Ethereum, ETH will plausibly continue to be pulled along with general market movements. As such, in the coming weeks it may be just as important to keep an eye on Bitcoin and the other major alts in order to get extra insight into where ETH is going next.
Keep in mind this is all the opinion of David Borman and not investment or trading advice. As always, do your own research, make your own decisions.
All charts provided by TradingView.
Read more: After issue on testnet, Ethereum's "Constantinople" may be delayed until 2019