Market Update: 0x surges 12% while other altcoins drop, BTC climbing up
After the recent sudden drop to almost all cryptocurrencies, 0x surges after Coinbase's listing announcement, BTC and other altcoins are getting way better than the previous stance, although still dropping.
Overall
After the sudden drop to almost all cryptocurrencies recently, the top 100 cryptocurrencies by market cap list still show many reds than greens, with a surprising "come back" from several coins, such as 0x and BTC.
0x (ZRX)
0x spikes with a surprising 12.64%, which may well be the impact of the announcement from Coinbase Pro that announced the listing of 0x on their platform just hours ago.
Altcoins
From the top 100 cryptocurrencies by market cap list, still not many green color can be seen. Aside from 0x are several other altcoins, such as MKR, BAT, GNT, ARDR, CNX, NAS and LOOM, with the highest gain of 15.29%.
The major altcoins are getting better compared to their previous stance, although they're still losing. For example, ETH still drops by 6% at USD 192.82, XRP by 3.75% at USD 0.406, BCH by 3.62% at $ 440.54, and XLM by 3.72% at $0.21.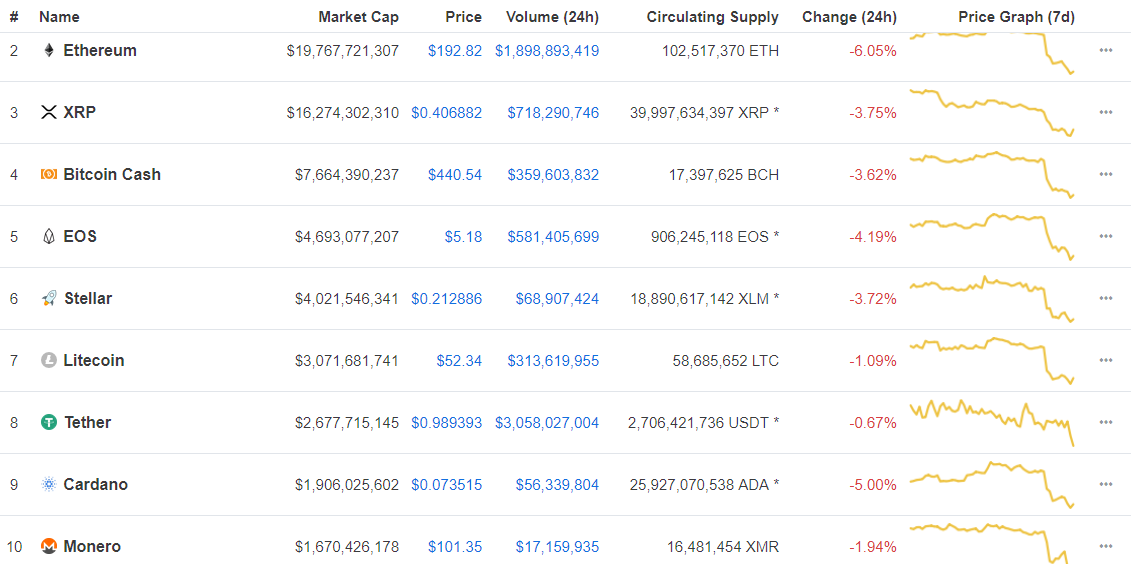 BTC
BTC "not surprisingly" shows a "come back" after losing by over 4%, it is now "only" dropping by 0.20% at USD 6,301.27. This is most likely related to the recently reported 22,000 BTC move to Bitfinex wallet by a BTC whale, which was predicted by many people to have a significant impact to the market.
The total market cap is around USD 200 billion, which is the lowest since September 20th when it was slightly over $200 billion.