What we know about Bitmain from their HKEX IPO submission
Bitmain has published a prospectus for an IPO in a bid to be publicly traded on Hong Kong's HKEX stock exchange.
Though rumors of financial insolvency have dogged the mining rig giant of late, the details in the IPO submission show healthy financial figures for the company.
The proposal is still in draft form, and the published version has redacted the timetable for the IPO, as well as the number of shares and other information, but what it does reveal is that Bitmain has seen rapid growth in the last few years, taking home huge profits. In 2016 Bitmain's had gross profits of $151,351,000, and last year this figure rocketed up to $1,212,750,000. This year, just in Q1, reports have come out that Bitmain has made a profit of as much as $1.1 Billion.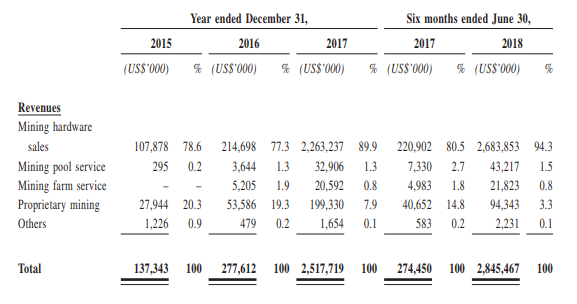 All told, Bitmain is showing impressive growth, and according to the prospectus, they are branching out into other applications for their hardware.
The prospectus states that Bitmain, 'has extended [their] focus to the revolutionary field of AI and achieved promising results,' developing chips which compete with Google and NVIDIA's. The prospectus mentions Bitmain branching out into developing hardware for neural nets, deep machine learning, and cloud computing applications.
An eagle eyed Twitter user did notice a snag apparent in the prospectus, which is that in 2017, likely high on the hype surrounding Bitcoin's meteoric rise, Bitmain overinvested in mining equipment to the tune of about $1 billion.
Don't beat yourself up for buying Bitcoin at $19,000, you weren't the only one to get caught up in the December 2017 hype...

Bitmain is sitting on an extra $1 billion of mining equipment that they haven't been able to sell in 2018 now that prices have pulled back...

👀 pic.twitter.com/EJHbdcyIGG

— Kevin Rooke (@kerooke) September 26, 2018
Nonetheless, Bitmain's profit record is solid, and with their IPO coming down the pipe there is no reason to suspect that they will slow their growth any time soon.