Ex-hedge fund manager Novogratz: The market reached a "seller fatigue"
Ex-hedge fund manager Michael Novogratz spoke about cryptocurrencies and cannabis stocks at Yahoo Finance's All Markets Summit. With this occasion he also restated out loud his belief that cryptocurrencies prices have touched their lowest earliest this month and are surely due to bounce back.
Read more: Has Bitcoin hit a low for the year? Novogratz calls a bottom (again)
The well-known cryptocurrency advocate made a bold statement and placed two controversial assets on the same scale. "I think the cannabis business is going to grow and it's going to grow relatively rapidly. I think the prices feel like Bitcoin and Ethereum did in December of last year," he told with regards to the newest investment craze. And if you check the charts, you can see where he's coming from with that comparison: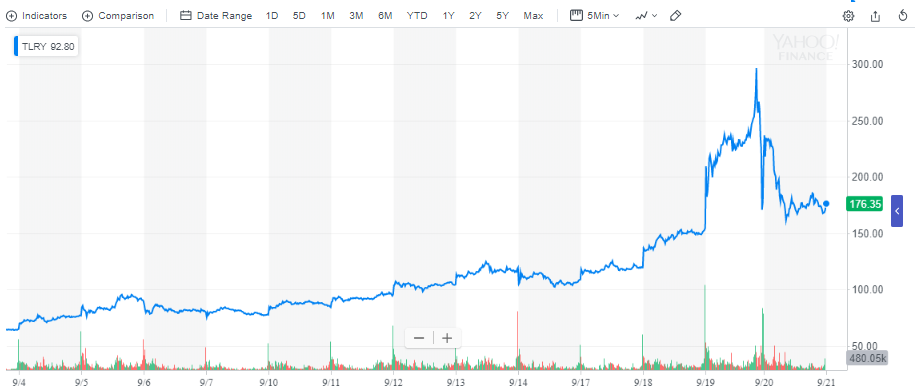 It seems that the stock price for leading cannabis producer, Tilray, ricocheted from $25 to almost $300 in just about a month, and then down to its current price of $176.
Continuing on cryptocurrencies, Novogratz believes that 2016 and 2017 were characterized by a "classic speculative global mania". This year was a brief pause, but he thinks that the market will now witness a "seller fatigue" and traders will find the motivation to buy once again following this episode.
On another note, he revealed that banking institutions will undoubtedly catch up. "I think institutions are moving towards investing. It's shocking how much has happened," he said during the summit according to Reuters.
Follow Chepicap now on Twitter, Telegram and Facebook!

Image Credit: Yahoo! Finance