CryptoBridge DEX sees record trading volume over past 24 hours.
Decentralized cryptocurrency exchange, CryptoBridge announced that it has reached an all-time high in trading volume over the past 24 hours.
CryptoBridge describes itself as a decentralized cryptocurrency exchange that is in the hands of BridgeCoin ($BCO) holders. Today CryptoBridge announced that they had had managed to reach a new all-time high in trading volume on the exchange. The new volume amount which was recorded was 517 BTC, approximately $3.29 million.
@CryptoBridge decentralized exchange is proud to announce that it has reached in 24h all time high in volume, currently at 517 BTC. Stake your $BCO #BridgeCoin today to receive 75% of trading profits every 2 weeks. Learn more at https://t.co/U3z6N32h3B pic.twitter.com/21gsU5AinZ

— CryptoBridge (@CryptoBridge) September 19, 2018
CryptoBridge has risen to prominence due to the secure access to the DEX, which does not store your digital assets, but rather allows you to access the DEX through your private key. CryptoBridge is continually adding new and exciting projects to their exchange which has seen an influx of traders flock to the DEX.
One of the more exciting reasons to make use of CryptoBridge is the fact that the DEX allows users holding the native token, $BCO, to stake their tokens and receive 75% of trading profits every two weeks.
CryptoBridge recently completed payout #19 to $BCO stakers. The latest payout was the highest payout since the launch of the exchange.
BridgeCoin staking payout #19 has been completed. Our highest BTC payout yet! Read the report here: https://t.co/dP5AXtfvJn#getpaidtotrade #thinkdecentral

— CryptoBridge (@CryptoBridge) September 16, 2018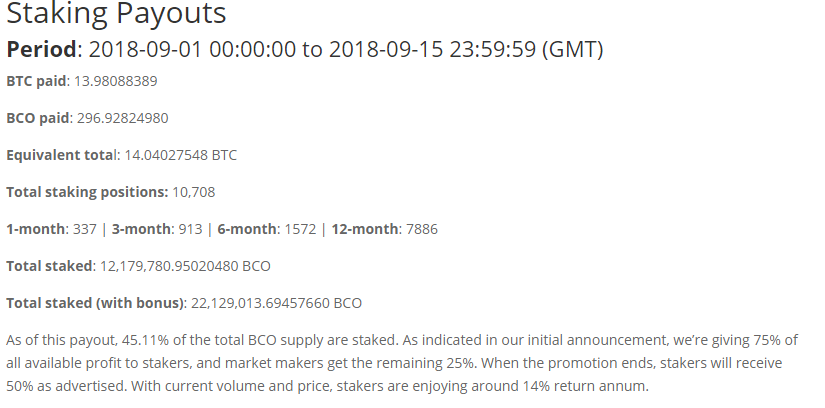 $BCO has since seen a massive jump in price with a 50% increase in price over the past week. No wonder Twitter followers are raving about this project.
i just bought a ton of $BCO

— Godson [Get Rich or Die Baghodling] (@Mansa_Godson) September 18, 2018
Why is $BCO on a rampage through this bear market?

Because it actually has a purpose. And it works. Staking $BCO earns you free satoshis ever two weeks.
The more volume @CryptoBridge gets. The more free $BTC you get from staking your $BCO#passiveincome from a #DEX pic.twitter.com/1kVqR6hfWv

— Christo_Crypto (@Crypto_WarriorX) September 17, 2018
Don't focus only on $AURA. Have 👀 also on $BCO:
1. Last days best BTC volume on @CryptoBridge since May.
2. Whale stocking up and locking up the coins
3. Fixed supply, no inflation
4. New coin features in the pipeline

1+2+3+4= $BCO 🚀🌕 pic.twitter.com/hTcCThGEBF

— Ether Schtroumpf (@EtherSchtroumpf) September 16, 2018