Market sees small upside action with XRP standing out today
The market saw a shift into the green today with virtually all top 10 coins seeing growth over the last 24 hours. Most notably, XRP has seen double digit gains as a variety of bullish news has come out about the currency.
Coin Market Cap/BTC dominance
Total market cap hovers just below $200 billion and is currently at $198,397,780,325. Bitcoin itself is still seeing strong dominance at 55.3%.
Current price of Bitcoin: $6,351.75.
Top 10
The top 10 performing cryptocurrencies all had positive growth today, with ETH getting back above $200 ($208.69 +5.93%) and an absolutely brilliant performance by XRP currently at $0.31 (+17.81%). The gains today seem to be based on a general trend towards positive news that XRP is experiencing now:
Lots of positive news with $XRP recently:

- You Can Now Accept $XRP on YouTube and Twitch
- Major Retail Saudi Bank Joins Ripple Network for International Payments
- #Ripple hinted at the release of a new product xRapid "in the next month or so"

— CryptoCurrency 🤑 (@crypto_goat_) September 18, 2018
Biggest winners/losers
XRP may be on top but it isn't the only winner. STEEM is performing admirably with a current price of $0.81 (+15.46%). The biggest losses today came from Aurora dipping to $0.02 (-25.82%).
BTC Technical Analysis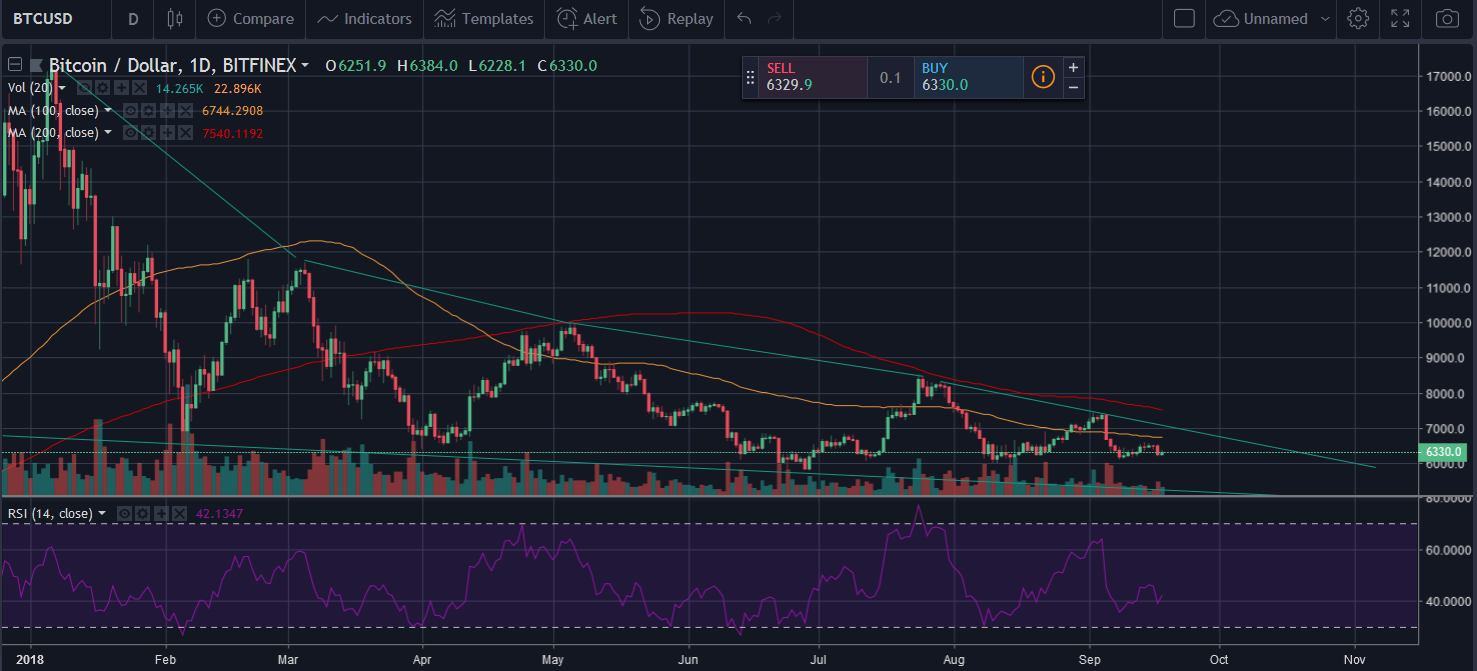 BTC remains in the consolidation channel we've been seeing all year. Because it is a diminishing channel we should expect to see a breakout in one of the coming cycles, perhaps the next time the price breaks the 100 day MA, and even more likely if we see a break of the 200 day. While the price could break downward, the general bullish news coming from the crypto-world this year implies that an upward turn is just a matter of time. Don't expect to see last year's runaway prices without some huge catalyst, but this bear trend can't last forever. As usual this is not advice, just one person's observation.