Ethereum drops below $200 as market slides back into the red
Ethereum saw its recovery gains from last week mostly wiped out as the price fell below $200 once again. Bitcoin also sees a drop in price with most alts seeing the same pattern as the total market cap slid back below $200 billion once again. A
Ether Shorts just hit an All Time High $ETH pic.twitter.com/VXe6dwOSxT

— Alex Sunnarborg (@alexsunnarborg) September 17, 2018
Bitcoin Dominance/ Total Market Cap
Bitcoin dominance was falling slowly until yesterday where it has once again begun to push upwards. Currently Bitcoin dominance sits at 56.3%
Total market cap dropped by $10 billion to fall below the $200 billion mark, currently sitting at $193 billion.
Bitcoin - $6,296.96 (-2.98/24hr)
BTC saw a nearly 3% drop in price over the past 24 hours. Price remains in a test between $6,000 support and $6500 resistance. Bitcoin appears to be ranging between that area with no clear breakout visible as yet.
Top 10
Excluding stable coins, 90% of the top 100 coins see red including the top 10. $EOS sees a 8.88% decline in price followed by $ETH at 8.80%. SEveral other coins see drops ranging from -1.68% ($XRP) up to -7.96% ($LTC)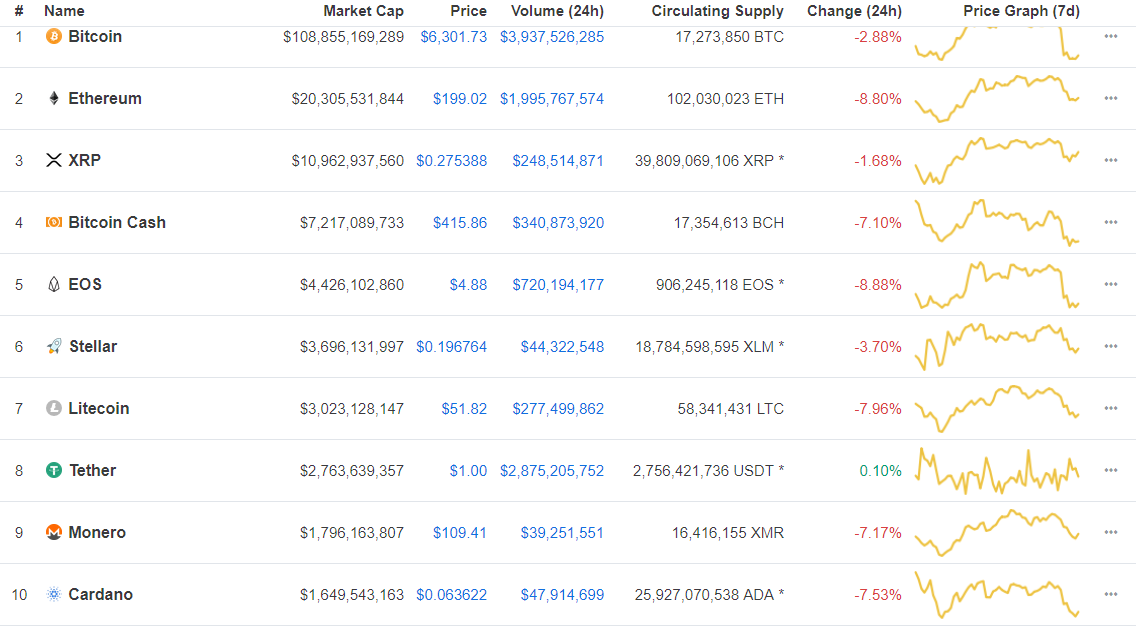 Top 100 Best Performer - $CMT: $0.086 (6.13%/24hr)
#84 project CyberMiles sees the biggest gain of the day with a measly 6.13% increase in price. However, with only 8 coins seeing green, 6.13% could be considered a decent gain in price compared to some of the biggest losers of the day. Honourable mention goes to $QASH & $STEEM with 4.45% & 4.44% increases in price.
Top 100 Worst Performer - $AOA: $0.027 (-25.41%/24hr)
Aurora sees a massive 25.41% decrease in price, making it the only top 100 coin to see a drop over 20% and only 1 out of 4 coins to see double digit drops in price.
Overall the market appears to be ranging between green and red days consistently over the past two weeks.