Bitcoin keeping its head above water, as ETH plunges to 14-month low
The last 24 hours have seen the recent losses in the crypto market further compounded. Ethereum is down over 8 percent and many other high-profile coins have significantly decreased in value, while BTC is more or less where it was yesterday.
Total market cap / BTC dominance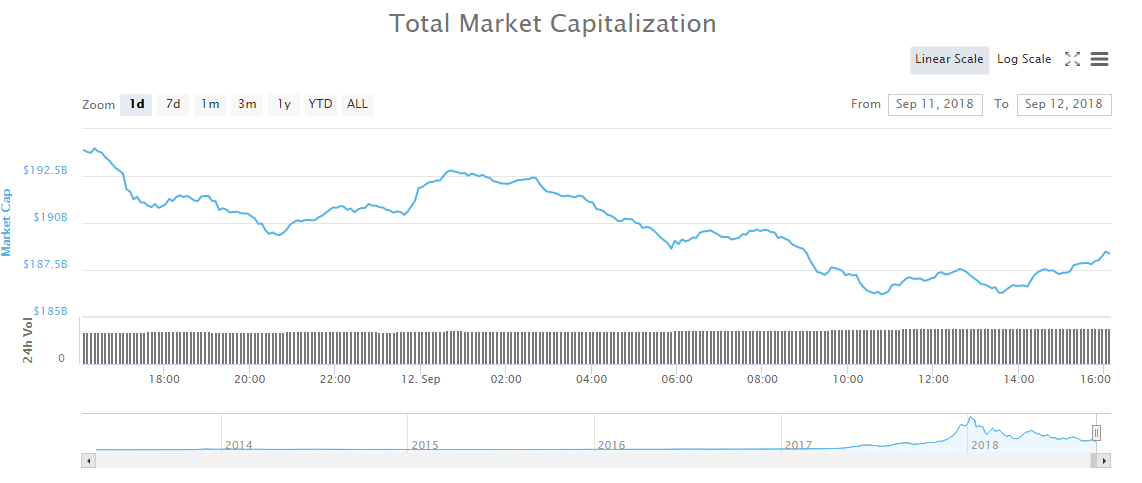 BTC dominance has been on the rise gradually over the last few months, particularly since the major crash earlier in the week, and the last 24 hours have seen one of its biggest leaps in a while. Remaining steady while most other big tokens are tanking, BTC now has 57.8% of the market share. Total market cap is down again for the 24h period, but has crawled back up to around $188.4 billion after hitting a low of $186.2 billion about 6 hours ago.
Bitcoin (BTC) - $6,305.64 (-0.02%)
For the second 24h period in a row, Bitcoin's price has barely moved, although this has put it even further ahead of its mostly struggling followers. The last time that BTC bounced back in the last 24 hours was around $5 higher than the previous support level, so this could hopefully indicate a general upwards trend.
Top 10:
Ethereum (ETH) - $173.90 (-8.20%)
Ethereum's troubles are showing no signs of stopping, and another disastrous 24 hours has seen the ETH token lose over 8 percent of its value. The price is now at its lowest point for 14 months, going back way before 2017's historic bull run.
Bitcoin Cash (-7.79%), Litecoin (-8.30%) and Cardano (-8.72%) have also seen some significant losses for the second 24h period, continuing their general trend downwards.
Stellar (XLM) - $0.197540 USD (3.66%)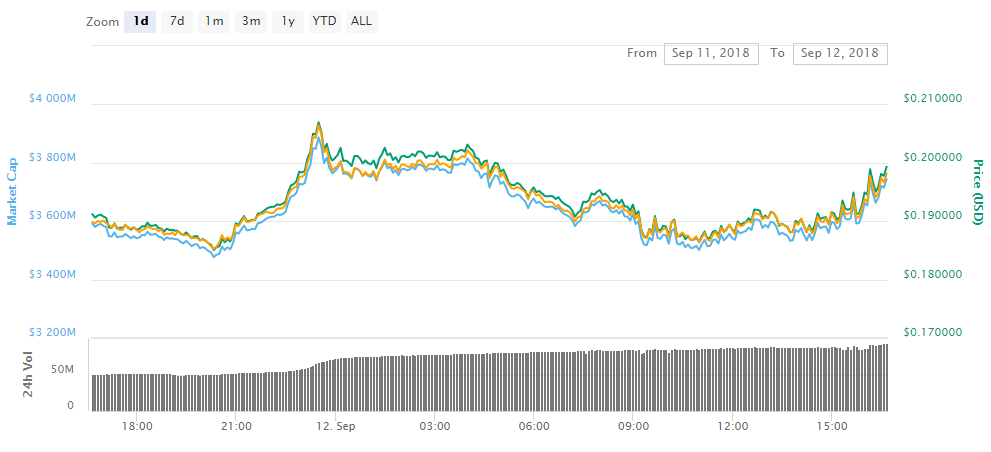 Possibly a result of some positive fundamentals over the last few days, Stellar has seen the biggest gains of the top 10. A relatively volatile 24 hours has finished with it up almost 4 percent.
Read more: TokenSoft expands ICO services to Stellar (XLM) projects; Stellar (XLM) start-up merges with Chain to form Interstellar