In another gloomy day for crypto, BTC slightly outperforms most other tokens
The eventual recovery of the cryptocurrency market after this week's crash seems increasingly far away, as the last 24 hours have seen the majority of coins suffer losses again. Most are down less than 5 percent though, and Bitcoin at least has remained relatively stable.
Total Market Cap/BTC Dominance

Total market cap continues to fall to worrying new levels. It is now at around $191.5 billion, which is the lowest it's been in almost a month. BTC dominance is still on the rise, now standing at 56.7%.
Bitcoin (BTC) - $6,288.83 (-0.49%)
A couple of significant plunges over the last 24 hours saw BTC test the same support line around $6.2k that it hit just under a month ago, before gradually rising back up to almost $6.3k. Overall loss is under 1 percent for the 24h period, but a test of $6k support still seems much more likely than a rally right now.
Top 10
Most of the top 10 cryptos are down again, with Cardano (ADA) suffering the biggest loss (-7.24%). Bitcoin Cash (BCH) and Ether (ETH) are also continuing to lose value, down 4.91 and 4.03 percent respectively.
Tezos (XTZ) - $1.33 (10.32%)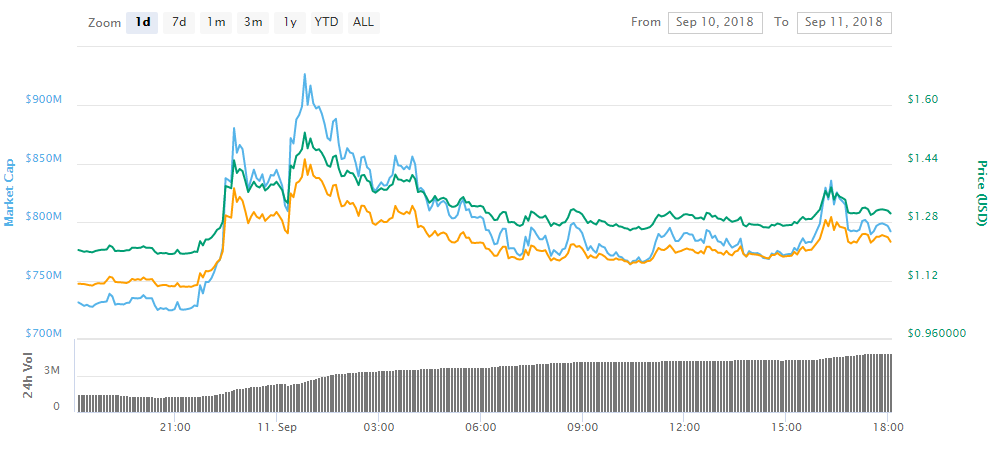 After a couple of major spikes that saw the crypto twice gain over 10 percent in value in around an hour, Tezos' token eventually reached a new 7-day high of $1.53. XTZ then fell off slightly, but it is still up over 10 percent for the 24h period.