Pump-and-dump? Glitch? Human error? Or next big thing? Aurumcoin up 6000%
Aurumcoin has seen some huge gains over the past few hours, according to CoinMarketCap. The project's AU token is currently up 5,750% for the 24h period, after crossing the 6000 percent mark not so long ago.
AurumCoin will be the first distributed open source cryptocurrency with intrinsic value@Aurum_Coin https://t.co/ufIbM64OHOhttps://t.co/g9vflwT8Fz pic.twitter.com/nupzSb7WkH

— AurumCoin (@Aurum_Coin) July 29, 2018
A relatively minor altcoin before today, the gold-backed cryptocurrency Aurumcoin is now ranked 23rd in terms of total market cap on CoinMarketCap, due to its value multiplying by around 60 times. One AU token is now worth $1,786.33.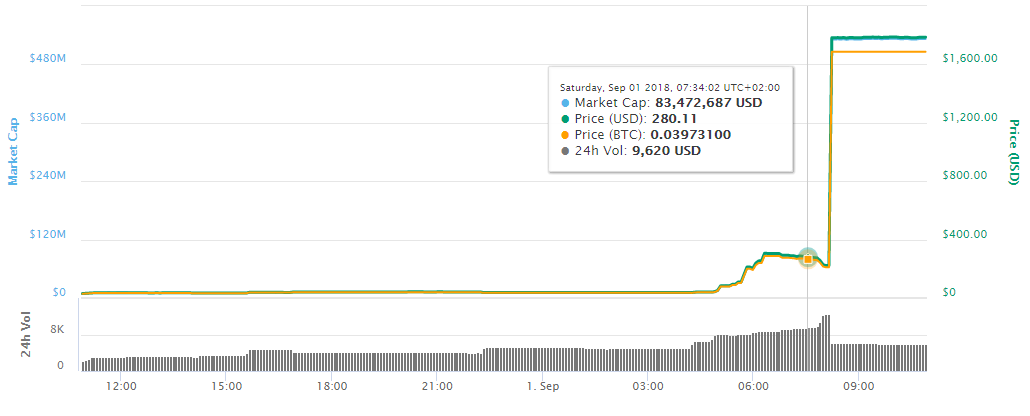 Despite this massive surge in price, the trading volume has still been relatively low. This could suggest that there is some kind of technical glitch on the CoinMarketCap site which has led it to show false statistics. According to WorldCoinIndex, AU is up just under 100%.
@CoinMarketCap Pl resolve big bug in coinmarketcap @Aurumcoin pic.twitter.com/WpJrptWRa4

— Ramu K. Mali (@RAMU_K_MALI) September 1, 2018
Other possibilities are that there is some kind of pump-and-dump scheme at work, or that a trader has just messed up a large order somehow. It could even be some kind of marketing ploy.
AurumCoin: 5,000% gain on CMC. Visit their website and they are running AdSense? Did they literally create a fakecoin knowing they'd get tons of traffic to make money on AdSense?

— Nick C (@Ether0x) September 1, 2018
Despite the apparent unreliability of such a huge price increase, many observers are still feeling the FOMO that so often grips the crypto community. Seeing a cheap altcoin soar like this is particularly frustrating during this long bear market, as Bitcoin's price has again retreated below the $7k resistance line it managed to break earlier in the week.
I wish I had a load of #aurumcoin this morning

— David Salt ️ (@DavidSalt6) September 1, 2018
Have you seen AurumCoin? Talk about a pump! Up 6,742% today to 23rd place! Obviously it's ready to dump now, but you gotta wish someone gave you a tip ahead of time. lol pic.twitter.com/0JDQmZOeYb

— World Alt Media (@WorldAltMedia) September 1, 2018