Bitcoin stays above $7k, as total market cap rises again
After yesterday's big rally above $7,000, Bitcoin's price has held firm. The rest of the top 10 have also stayed in the green, and total market cap is above $230 billion again.
Market Cap / BTC Dominance
Bitcoin's dominance of the market has again fallen slightly, as the top 10 cryptos ride the crest of yesterday's big $7k wave, and many smaller coins have also seen gains. Market cap is just under $232 billion, having barely been below the $230 billion mark for the last 24 hours.

Bitcoin (BTC) - $7,087.18 (2.24%)
After breaking $7k yesterday, the BTC price has continued to rise, although not quite at the same rate. There seems to be a resistance line at just above $7100, which has been tested twice now, and it looks as though it will be tested again at some point soon. Third time's a charm?
Top 10
All the top 10 coins have gained value again, with most following the pattern of BTC. EOS (15.76%) and IOTA (11.25%) have seen the biggest gains, having already been on the rise before Bitcoin's rally yesterday buoyed them up even further.
EOS (7 days):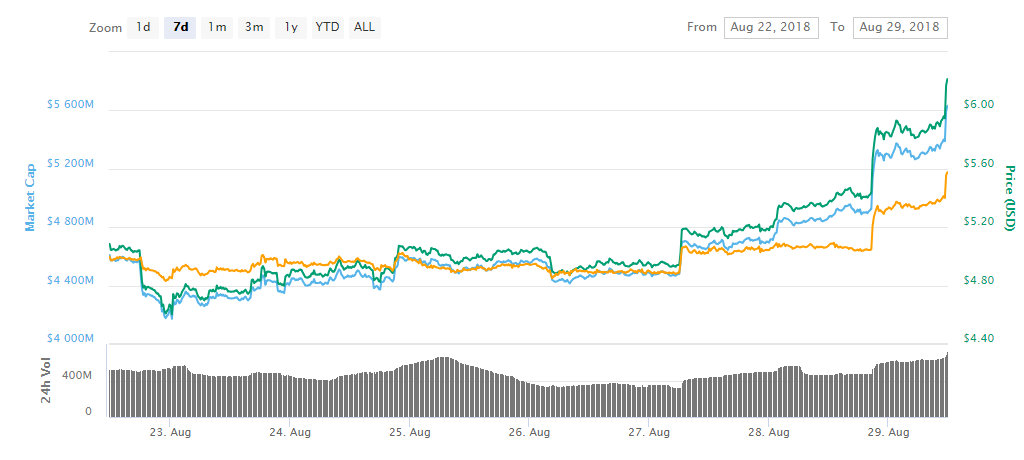 Dash (DASH) - $198.75 (10.41%)
Just outside the top 10 in 14th place, Dash has also seen a big price surge. Possibly as a result of some positive fundamental news from yesterday, it saw gains of over 20 percent, although it has now retreated a little from those highs.
Read more: Dash partners with Kripto Mobile, price rises by over 20%