Morgan Creek's new crypto index doesn't include many top coins
Morgan Creek and Bitwise Asset management have made a hefty contribution towards mainstream adoption with the launch of the Morgan Creek Digital Asset Index Fund, Forbes reports.
Backed by Morgan Creek, the fund provides pensions, wealthy families, endowments and accredited investors an opportunity to invest in a basket of ten cryptocurrencies.
"Increasingly, institutional investors are coming to us asking for exposure to the space," said Mark Yusko, CIO at Morgan Creek. "We wanted to create a vehicle tailored for those investors."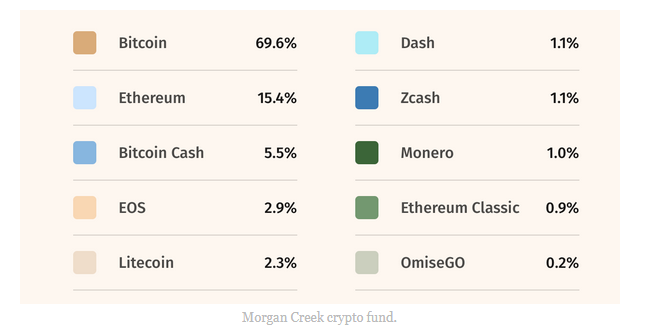 However, it doesn't take long to notice that some of the world's biggest cryptocurrencies are missing from the list; notably Ripple's XRP and Stellar's lumen. Bitwise, the company managing the fund, explained that they were excluded because the tokens were created through the controversial process called a pre-mine.
Anthony Pompliano, Morgan Creek Digital partner said, "If there's a central party that owns 30% or more of supply, then we withhold those from the index because we think that introduces a lot of additional risk that may not be there if it was a more decentralized network."
IOTA and cardano were excluded from the list for failing to meet Bitwise's cold-storage custody requirements. Tezos also failed to meet the requirements, and vechain doesn't meet the exchange concentration rule as most of the trading occurs on Binance.